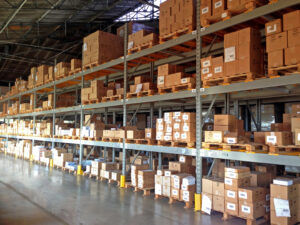 Most warehouse owners and operators appreciate a good security guard, and it's not difficult to understand why. Warehouses are often home to expensive goods, dangerous chemicals, and lots of room for incidents that have the potential to threaten the safety of employees. Having a trained security guard on staff provides a multitude of benefits that are critical for keeping business running smoothly and safely.
Deter Crime and Theft
The very presence of security guards is great for deterring crime and theft. The thing is, nobody wants to get caught—due to this, most people will think twice about attempting crime or theft while a security guard is keeping an eye on the area. It presents a serious risk that isn't worth taking.
This deterrence doesn't just work on outside threats but also inside threats, such as employees. It's an unfortunate fact that employees will occasionally steal from their employers—having at least one security guard will make this much harder and force employees to reconsider whether it's worth the risk of being caught. Security guards will become well-acquainted with other employees and get used to their mannerisms, schedule, and habits, so they'll often be the first to notice if an employee is behaving strangely.
Boost Employee Morale
A good security guard won't just keep an eye on your employees—they are also known to raise employee morale. Having a trained security guard on site can help employees feel safe and protected, and they provide a friendly face that is ready to help whenever it's needed. Having an extra pair of hands that are ready to spring into action at a moment's notice can do a lot to help employees feel secure and supported.
Ensure Employee Safety
Security guards don't just make employees feel safer, they actually keep them safer. They are always watching, making sure things are in order and safety practices are being followed so that everyone is protected and potential accidents are as unlikely as possible. They can help to prevent common problems such as forklift accidents, chemical spills, and other various issues. In the event that something does happen, everyone will be glad to have a trained security guard on duty.
Emergency Preparedness
Security guards are an irreplaceable asset during an emergency. Whether it's a warehouse accident, a fire, or a medical emergency, they are trained to handle all sorts of emergency situations by staying calm, keeping others calm, and directing action to keep everyone safe. They can contact police or emergency services quickly and offer information efficiently to ensure that help arrives as soon as possible whenever it's needed. This means that, in the rare event of a serious issue, everyone will have a better chance of remaining safe with a security guard around.
CES is Dedicated to Serving Our Community
Since opening in 1975, we have been committed to serving businesses in the District of Columbia, Maryland, and Virginia. Our values include proactive communication, honesty, reliability, and quality. We also believe in paying unparalleled attention to detail, no matter which service you require us to provide.
Our services include the following: professional security teams for permanent, temporary, emergency and rapid-response support; around-the-clock patrols and management attention; concierge and hospitality staffing; and a dedicated mobile patrol service with associated staffing. Contact us for a free, professional consultation today! Call 443-471-7000. Don't forget to follow us on social media through Facebook, Twitter, and LinkedIn!