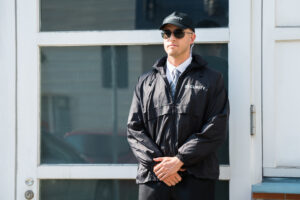 When you're running a business, there's a lot on your plate at all times. With everything demanding your attention, it can become overwhelming and force you to prioritize only the most important tasks and decisions. Inventory, service, and other important aspects of your business are shoe-ins for center stage but don't forget to prioritize your business security, especially when it comes to hiring security guards. You'll be glad you did.
Visitor Security
Visitor security is absolutely essential when running a business. First, visitor safety is always a liability for any business and should be taken seriously to avoid harm to any customers, visitors, or patrons, as well as avoid costly and time-consuming lawsuits that could do significant damage to your bottom line. In addition, customers want to feel safe while they are engaging with your business. Customers that feel like their security is being taken seriously are more likely to continue doing business with you and recommend your business to others. Having security guards that maintain a safe and secure environment within your business is a great way to keep your customers happy and coming back.
Employee Security
Visitors aren't the only ones who need to feel safe—your employees will also benefit from the secure environment that is fostered with strong security, especially if there's a security guard on duty. Employees that feel safe and protected are happier, have higher morale, are more productive, and are friendlier with both patrons and co-workers. Employees that feel unsafe at their place of work are more likely to be stressed, call out, and struggle to do their jobs well. Having strong security, especially visible security, will put employees at ease.
Asset Protection
Theft costs U.S. businesses an average of $50 billion annually. Having a strong security network is important, so don't stop at cameras and alarms. Employees have inside knowledge of how to get around these defenses, and determined thieves will take the time to find your security system's weak points and exploit them for their own gain. A security guard is excellent at asset protection because they'll notice strange behavior or patrons can report suspicious activity directly to them. They can intervene in any issues right as they happen, ensuring that assets stay where they belong.
Deterrence
Security cameras and alarms simply don't serve as useful means of deterrence, but security guards do. A security guard provides visible, physical security that will make anyone think twice before attempting to cause problems at your business. When you experience fewer problems, your business runs more smoothly and people will feel that you are reputable and safe to do business with.
Emergency Preparedness
Something many businesses overlook is how important security is when it comes to emergency preparedness. Fire, flood, tornado, earthquake, medical emergency—many of these situations can be handled carefully and appropriately by a well-trained security guard. They can keep their cool and protect everyone, from patrons, to visitors, to employees, in the event of an emergency. They can contact the appropriate authorities, maintain order, and set emergency procedures in motion right away. It's just another reason to prioritize your business security, especially when it comes to hiring a security guard.
CES is Dedicated to Serving Our Community
Since opening in 1975, we have been committed to serving businesses in the District of Columbia, Maryland, and Virginia. Our values include proactive communication, honesty, reliability, and quality. We also believe in paying unparalleled attention to detail, no matter which service you require us to provide.
Our services include the following: professional security teams for permanent, temporary, emergency and rapid-response support; around-the-clock patrols and management attention; concierge and hospitality staffing; and a dedicated mobile patrol service with associated staffing. Contact us for a free, professional consultation today! Call 443-471-7000. Don't forget to follow us on social media through Facebook, Twitter, and LinkedIn!