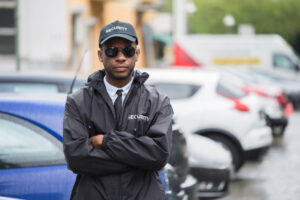 It can be difficult to know if your business will benefit from hiring a security guard. Most businesses rely on security systems, which are useful in many ways. However, these systems are limited in their capabilities, and sometimes, the best decision is to hire a professional security guard that can monitor your property and take action whenever trouble arises.
An Uptick in Theft
Retail businesses deal with the unfortunate issue of theft regularly, which can be a major problem in some cases. Security systems have their uses, but they can't deter and intercept theft—a security guard can. If your business has been experiencing an escalating occurrence of theft, a security guard will help. Security guards provide visual security that will deter many would-be shoplifters due to the risk of capture. For those who accept the risk, a security guard can intervene and take appropriate action against the perpetrator.
High Crime Area
Any businesses located in high-crime areas are at higher risk of being targeted. Having a security guard lets potential threats know that you take security seriously, forcing them to reconsider whether it's worth it to target your business. 
Parking Garage
A parking garage is a hotbed of activity and is often overlooked when businesses plan their security. This area can be susceptible to customer arguments, property damage, and emergency situations that require an immediate response. Hiring a security patrol will greatly reduce the number of incidents that take place in your parking garage, and it will ensure that someone is nearby whenever customers need help.
No Safety Staff
If you don't currently have any safety staff, a security guard can be an important asset. Without them, your regular employees are expected to manage business safety and security in addition to their other responsibilities. This can put undue stress on your staff and create openings for potential thieves and other criminals. Having someone who can put all of their energy and focus into safety and security is critical if you want the best results.
Uncertain Emergency Response 
For many business owners, the potential for an emergency situation is probably the last thing on their minds. Thankfully, hiring a security guard can fill this need. They are trained to deal with many different emergencies, such as responding to a building fire and medical emergencies affecting customers or staff. They could assist with putting out a small fire. Evacuating customers and staff during dangerous situations and contacting medical authorities when someone needs help. Their presence can also help keep people calm and ensure cooperation when things get tense.
CES is Dedicated to Serving Our Community
Since opening in 1975, we have been committed to serving businesses in the District of Columbia, Maryland, and Virginia. Our values include proactive communication, honesty, reliability, and quality. We also believe in paying unparalleled attention to detail, no matter which service you require us to provide.
Our services include the following: professional security teams for permanent, temporary, emergency and rapid-response support; around-the-clock patrols and management attention; concierge and hospitality staffing; and a dedicated mobile patrol service with associated staffing. Contact us for a free, professional consultation today! Call 443-471-7000. Don't forget to follow us on social media through Facebook, Twitter, and LinkedIn!