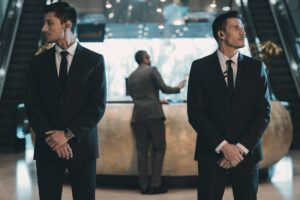 Security risks don't solely exist outside of your business—unfortunately, employees can also pose a threat. Dealing with internal threats can feel overwhelming. You have hired people that you feel are trustworthy and skilled workers that will uphold the integrity of your business and help it to continue running smoothly. It's an unfortunate reality that sometimes the biggest threats to business security are within its walls, and that's why it's critical to have security guards that can protect your business against internal security risks.
Deterrence
Having security guards on the premises at all times keeps employees in check because they are aware that there is always someone watching. Deterrence is the first job of any security guard—stopping an incident before it starts benefits everyone. It preserves the reputation of the business, saves time and money, and it keeps employee morale high. Avoiding incidents helps everyone feel more secure and promotes a healthy, enjoyable work environment. 
Familiarity
Familiarity can make deterrence easier. Having security guards who are regularly observing and interacting with employees will allow them to notice unusual behavior sooner, and more easily. This familiarity can also go both ways—employees that know the security guard well will know that causing a problem will be met with resistance. They will also be less likely to consider causing an incident if they have a good rapport with the security guard, as they will not want to cause them trouble and damage their relationship. 
Risk Factor
If an employee is considering committing a crime or causing a security incident, they will think twice if there are on-site security guards. The risk is higher for an employee that knows there are trained security guards on the premises who are vigilant and familiar with their behavior. The employee knows that if they are caught it will cost them their jobs and could end in an arrest. Having on-site security guards significantly raises the likelihood of capture because they are always watching, will notice strange behavior right away, and be able to respond immediately. When an employee is considering causing a security incident they'll be less likely to go through with it once they weigh the risk of being caught by the security guards. If they choose to try anyway, your team of trained security guards is most likely to capture them quickly and preserve the integrity of your business.
CES is Dedicated to Serving Our Community
Since opening in 1975, we have been committed to serving businesses in the District of Columbia, Maryland, and Virginia. Our values include proactive communication, honesty, reliability, and quality. We also believe in paying unparalleled attention to detail, no matter which service you require us to provide.
Our services include the following: professional security teams for permanent, temporary, emergency and rapid-response support; around-the-clock patrols and management attention; concierge and hospitality staffing; and a dedicated mobile patrol service with associated staffing. Contact us for a free, professional consultation today! Call 443-471-7000. Don't forget to follow us on social media through Facebook, Twitter, and LinkedIn!