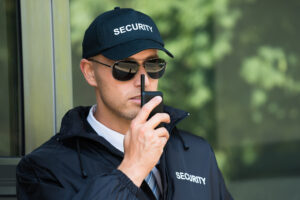 Physical security is incredibly important for all types of businesses—from warehouses to hospitals—to ensure your facility is safe and your assets are protected. Physical security includes asset protection, as well as the safety of employees and patrons. Having a strong web of security will ensure your business is equipped to handle any problem that arises, whether it comes through your front door or sits behind your front desk.
Secure All Areas of Your Property
Securing your front door is important, but it shouldn't stop there. The rest of your property is vulnerable to issues if there's no security to monitor it. Keep an eye on places such as common areas, parking lots, and employee areas in addition to the front door in order to ensure a more secure business. Any blind spots in your security should be carefully considered so you can find the right solution for every area of your business.
Use Several Types of Security
If you've set up a major network of security cameras, that's a great first step! However, security cameras have blind spots and there's a lot they can't do. In order to accomplish the best level of security, it's important to utilize multiple security measures so that they can all work together and create a nearly-impenetrable web of security for your business. Add a security guard to your front lobby as a desk attendant, and have a team of security professionals perform randomized rounds of your business to check those blind spots and keep tabs on patrons and employees.
With more levels of security working together any problems can be quickly identified and resolved whether the threat is internal, external, major, or minor. 
Consider Internal Threats
When considering potential threats to your business, don't forget about your employees. Employees have the time to get comfortable, learn security patterns, and find security camera blind spots. They are some of the best-equipped potential security threats to your business due to their intimate knowledge of its layout, the other employees, camera positions, and other factors. Having extra security measures and security guards that know what to look for can catch an employee before they do significant damage, or even deter them from any attempt.
Employees can also compromise physical security through workplace violence and sexual harassment, so having security that can step in to de-escalate the situation and provide a credible witness if law enforcement needs to be called can make a bad situation go a lot more smoothly than it would otherwise.
CES is Dedicated to Serving Our Community
Since opening in 1975, we have been committed to serving businesses in the District of Columbia, Maryland, and Virginia. Our values include proactive communication, honesty, reliability, and quality. We also believe in paying unparalleled attention to detail, no matter which service you require us to provide.
Our services include the following: professional security teams for permanent, temporary, emergency and rapid-response support; around-the-clock patrols and management attention; concierge and hospitality staffing; and a dedicated mobile patrol service with associated staffing. Contact us for a free, professional consultation today! Call 443-471-7000. Don't forget to follow us on social media through Facebook, Twitter, and LinkedIn!