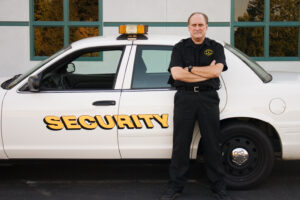 Investing in professional security guards is something all businesses should seriously consider. The constant updates to security technology can make many business owners feel like security guards aren't needed or don't add anything valuable to their business's security. However, security guards are invaluable to any business or facility, and they are especially helpful in certain conditions where the risk of security threats is higher than normal.
High-Crime Area
Any business or facility in a high-crime area should seriously consider hiring professional security guards for their property. In a high-crime area, all a business needs to do to risk a security breach is exist. Professional security guards are critical because they are there to deter crime and make it difficult for any would-be threat to justify targeting your business when their chances of escape are so low.
Children & Families
Businesses targeted at children and families, or properties that are home to families, need to have professional security guards. Children are notorious for getting lost, and they're also at risk of being kidnapped or harmed in busy areas. Having security guards on-site to manage the chaos and keep children safe is imperative.
Parking Garage
A parking garage can be a lawless place, especially if there isn't any visible security. Having security patrols watching over the parking garage can keep problems at a minimum and ensure the safety of guests even when they're not inside the facility.
Residential Complex
All residential complexes should have security guards. People live there, and that can mean in all sorts of unexpected trouble. In addition, families trust your complex to keep them and their children safe from security threats. Break-ins, domestic disturbances, kidnapping, and vandalism are just a few of the issues facing a residential complex, and they can happen at any time. Trained security guards can respond quickly and appropriately to keep damage to a minimum and help residents feel protected.
Alcohol
If your business carries, serves, or sells alcohol, a security guard is a critical asset. Dealing with people who are inebriated should not be a task that other employees have to deal with, as these people can become aggressive and violent.
Even if your business does not serve alcohol, warehouses and facilities that are known to carry alcohol are likely to become targets for theft. There's also the possibility of employees taking some and becoming intoxicated, which could lead to a set of serious consequences such as assault of a co-worker, serious theft, injury to the inebriated employee, or damaged property. 
CES is Dedicated to Serving Our Community
Since opening in 1975, we have been committed to serving businesses in the District of Columbia, Maryland, and Virginia. Our values include proactive communication, honesty, reliability, and quality. We also believe in paying unparalleled attention to detail, no matter which service you require us to provide.
Our services include the following: professional security teams for permanent, temporary, emergency and rapid-response support; around-the-clock patrols and management attention; concierge and hospitality staffing; and a dedicated mobile patrol service with associated staffing. Contact us for a free, professional consultation today! Call 443-471-7000. Don't forget to follow us on social media through Facebook, Twitter, and LinkedIn!