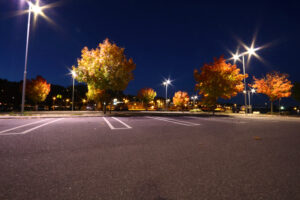 As winter creeps ever closer, we are spending a lot more time in the dark. The sun rises later and sets earlier, giving potential criminals and thieves more opportunities to target businesses under the cover of darkness. This is a major problem, especially during the holiday season, which is why it's important to shore up your business's security during the darker months of the year. Making it difficult for potential criminals to commit a crime at your business and get away with it can prevent it from becoming a target in the first place.
Let There Be Light
One of the best and easiest ways to deter crime at your establishment is to make sure the area around it is well-lit. The more lights there are, the better. Potential criminals are looking for an area where they can go unseen, and any area that remains lit and visible after dark won't be very enticing. Lights are an excellent deterrent during off-hours when it's dark. They can also help protect employees and customers who are leaving your business after sunset. Visibility is key, so make sure all areas aren't just well-lit but easily visible and difficult to hide in.
24-Hour Monitoring
A security guard should be on-site 24 hours a day, but they are especially important for off-hours, where they can closely monitor any activity around the building and act quickly if your business does happen to be targeted.
Someone should always be keeping tabs on your business. With remote monitoring and monitored alarms that provide an automatic response, many businesses think they can skip hiring a security guard to keep an eye on their facility. However, a security guard can make a big difference—they can keep tabs on anything that seems suspicious, and if an alarm or sensor goes off, they can check it out or even hold an attempted thief until authorities arrive. They'll be there to provide a reputable and thorough account of what happened, making it easier to ensure justice for anyone who targets your business.
Upgrade Your Security Systems
Businesses, especially those at risk of being targeted, should always have a security guard on staff. This may make it seem like it's okay to leave the old security system the way it is, but it's actually a good reason to upgrade it regularly. Modern security systems make monitoring your property significantly easier, and a security guard can do it remotely or get notifications if a sensor or alarm goes off while doing rounds. This will make security tasks more efficient and ensure that every inch of your property is secure.
CES is Dedicated to Serving Our Community
Since opening in 1975, we have been committed to serving businesses in the District of Columbia, Maryland, and Virginia. Our values include proactive communication, honesty, reliability, and quality. We also believe in paying unparalleled attention to detail, no matter which service you require us to provide.
Our services include the following: professional security teams for permanent, temporary, emergency and rapid-response support; around-the-clock patrols and management attention; concierge and hospitality staffing; and a dedicated mobile patrol service with associated staffing. Contact us for a free, professional consultation today! Call 443-471-7000. Don't forget to follow us on social media through Facebook, Twitter, and LinkedIn!