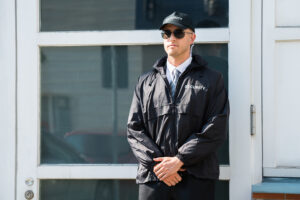 When you're running a business facility, proper security is probably on your mind often. Having a tight security network is critical to keep your building, assets, inventory, staff, and customers safe. When that security is handled appropriately, it can give you peace of mind. In order to maintain exceptional security, there are a few places you should consider posting security guards to ensure that you have trained security personnel ready to respond immediately if anything goes wrong.
Entrances
Having a security guard at your front door is an excellent deterrent. They can simply be assigned to stand near the front entrance, or they can be set up in a guard booth at the perimeter entrance of a facility. When a potential criminal sees a security guard right at the entrance, they're less likely to attempt a crime, as the security guard provides a difficult obstacle that is likely to lead to capture.
Front Desks
Any business with a reception desk can benefit from stationing a security guard at it. This practice has become somewhat common because it provides security at the entrance without that security being too obvious. A security guard desk attendant is capable of handling the standard day-to-day work as a receptionist, but their special training also makes them ideal for spotting potential problems right away. Guests won't be able to intimidate them, nor will a busy lobby. They are able to maintain order while still offering exceptional customer service.
Each Floor
If your facility has multiple floors, you may need a security guard stationed on each floor. If you only have security guards at the ground level and an emergency happens on the third floor, you may need multiple responders. This could also leave your security vulnerable—if there is trouble on a higher floor, your security personnel may have to leave the ground level unsupervised. This could be exploited by a team of criminals or simply leave an opening for someone who has arrived to find a facility that is not secure at its main entrance. 
Parking Lot or Garage
You should have mobile security patrols stationed in a large parking lot or garage. Parking lots can be a flurry of unpleasant activity, requiring security personnel to be available to step in and mitigate these problems. In addition, they can help with customer service, such as if a customer forgets where they parked or has lost their child.
CES is Dedicated to Serving Our Community
Since opening in 1975, we have been committed to serving businesses in the District of Columbia, Maryland, and Virginia. Our values include proactive communication, honesty, reliability, and quality. We also believe in paying unparalleled attention to detail, no matter which service you require us to provide.
Our services include the following: professional security teams for permanent, temporary, emergency and rapid-response support; around-the-clock patrols and management attention; concierge and hospitality staffing; and a dedicated mobile patrol service with associated staffing. Contact us for a free, professional consultation today! Call 443-471-7000. Don't forget to follow us on social media through Facebook, Twitter, and LinkedIn!