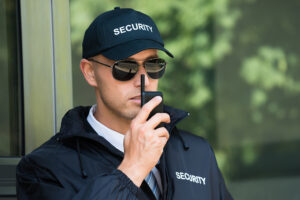 There are many types of businesses that can benefit from security guards. When it comes to hiring security guards, some businesses might consider armed guards first. While armed guards are useful in some specific situations and high-risk facilities, the reality is that unarmed guards are the better option for the vast majority of businesses. Most businesses, including some warehouses, shopping centers, and even residential complexes, will benefit from having unarmed security guards available to protect them from crime, improve customer satisfaction, and handle various emergencies.
Keep the Peace Without the Tension
The most important job for any security guard is deterrence. While both types of security guards will do this effectively, only unarmed security guards will do it without alarming the general public. Armed security guards can create tension, leaving guests feeling uneasy. They can make it seem like an area is more dangerous than it really is, which could negatively affect your business. Unarmed security guards provide deterrence without the tension—they can hinder potential crime while keeping the general public at ease. They are trained to be friendly and approachable, and the liability risk is far lower than armed guards. Their ability to interact with guests and customers is a boon to many businesses and facilities, providing support and security where it's most needed.
Affordability
If you're worried about the cost of hiring security guards, unarmed security guards are a much more affordable option. While both receive extensive training and are capable of handling many situations, such as crime, customer service, and emergency response, unarmed security guards don't need firearm training. It is also expected that armed security guards will be working at high-risk jobs and facilities, and create a significantly higher level of liability so the cost is typically higher due to the risk involved.
Most facilities and businesses are not high-risk, but it's still important to have proper security to protect your assets, inventory, visitors, residents, and employees. Unarmed security guards are an affordable and effective option for many businesses ranging from warehouses to residential complexes.
CES is Dedicated to Serving Our Community
Since opening in 1975, we have been committed to serving businesses in the District of Columbia, Maryland, and Virginia. Our values include proactive communication, honesty, reliability, and quality. We also believe in paying unparalleled attention to detail, no matter which service you require us to provide.
Our services include the following: professional security teams for permanent, temporary, emergency, and rapid-response support; around-the-clock patrols and management attention; concierge and hospitality staffing; and a dedicated mobile patrol service with associated staffing. Contact us for a free professional consultation today! Call 443-471-7000. Don't forget to follow us on social media through Facebook, Twitter, and LinkedIn!