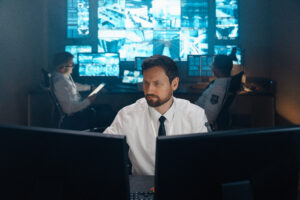 While cybersecurity is often taking the spotlight in discussions about security, it's important to remember that physical security remains relevant in our online world. In fact, with the advent of some online conveniences, physical security is potentially more relevant than ever to protect people as well as assets that keep businesses operational. Thanks to modern security technology, many businesses simply install their cameras and leave it at that. While these systems have their uses, the fact is that they cannot stop or respond to incidents as they occur. Trained security guards provide a critical human element to business security in order to determine the legitimacy of potential threats, provide an immediate response, and even deter issues before they start.
Brick-and-Mortar Businesses
Even in a world where the internet is a hub for so many necessary activities, brick-and-mortar businesses aren't going anywhere. This isn't just about retail stores and shopping centers—many businesses cannot be operated online and may need to invest in physical security to maintain the safety of staff and customers or guests, as well as protect property and assets.
Businesses that benefit from physical security include, but are not limited to, hotels, medical offices, hospitals, factories, banks, libraries, and many other critical facilities. Security guards are an important human element of physical security that allows businesses to respond to incidents and issues right away.
Warehouses
Online shopping continues to grow in popularity and dominate the market in many ways. This may make it seem like physical security is becoming obsolete, but the opposite is true. Online retailers need large warehouses to store their products, and large warehouses attract a lot of unwanted attention. These facilities are housing extensive amounts of inventory—potentially millions of dollars worth of products. Keeping these assets secure will require comprehensive security, including various security systems and a team of trained security guards that can deal with any problems that arise.
Residential Complexes
Residential complexes are growing in popularity—more people want to live in them, and more are always being built to keep up with the demand. When you have tenants living at your business 24/7, physical security is absolutely essential for keeping them, and your property, safe from problems. Residential complexes deal with issues ranging from something as potentially innocuous as loitering to serious crimes like breaking and entering, and domestic disturbances. Having trained security guards available to respond to these issues as they happen can mean the difference between a minor incident and a major one.
CES is Dedicated to Serving Our Community
Since opening in 1975, we have been committed to serving businesses in the District of Columbia, Maryland, and Virginia. Our values include proactive communication, honesty, reliability, and quality. We also believe in paying unparalleled attention to detail, no matter which service you require us to provide.
Our services include the following: professional security teams for permanent, temporary, emergency and rapid-response support; around-the-clock patrols and management attention; concierge and hospitality staffing; and a dedicated mobile patrol service with associated staffing. Contact us for a free, professional consultation today! Call 443-471-7000. Don't forget to follow us on social media through Facebook, Twitter, and LinkedIn!