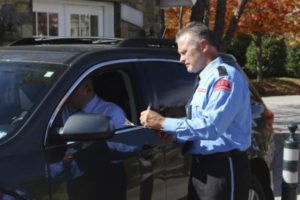 Security is a complex aspect of business ownership, and facilities of all kinds face unique challenges during day-to-day operations. However, virtually every commercial property can benefit from an in-person security presence. Incorporating uniformed security guards into your facility's security strategy is a particularly potent deterrent for many types of crime. The quick response and visible presence of an on-site security team provide valuable peace of mind for you, your employees, and your patrons. Uniformed security guards from CES Security are trained to serve various functions, keeping your facility safe and secure. Here are some of the benefits of incorporating the use of these trained professionals into your security strategy.
Crowd Management and Customer Service
With businesses in many cities reopening amid pandemic-induced panic and frequent demonstrations of civil unrest, maintaining a calm and controlled environment is critical. Consider utilizing uniformed security guards to enforce social distancing and mask usage guidelines among visitors in your facility. Security guards are trained to provide excellent customer service while also giving firm instruction, and delegating these responsibilities to a uniformed security team can help your employees avoid unwanted confrontation with agitated visitors.
Crime Detection and Response
Security guards are trained to remain continually vigilant, keeping a keen eye out for anything that might seem out-of-place or suspicious. Both mobile patrols and stationary positions are excellent applications for uniformed guards. These trained professionals can help detect criminal activity and respond in an appropriate fashion. A security team that provides prompt responses to emergencies is an irreplaceable asset, and incorporating security guards into your security plan is a proactive approach to potential crime.
Uniformed Personnel Provide a Visible Crime Deterrent
One of the most significant benefits of hiring uniformed guards is the highly-visible security presence they provide. A clearly-visible security team can serve as a deterrent for would-be trespassers, thieves, and vandals. Uniformed security guards are ideal for a wide range of facilities, including those that are in high-traffic areas, serve a substantial number of visitors, or require a high degree of security. If your property could use a more substantial security presence, contact the professionals at CES Security.
CES is Dedicated to Serving Our Community
Since opening in 1975, we have been committed to serving businesses in the District of Columbia, Virginia, and Maryland. Our values include proactive communication, honesty, reliability, and quality. We also believe in paying unparalleled attention to detail, no matter which service you require us to provide.
Our services include the following: professional security teams for permanent, temporary, emergency and rapid-response support; around-the-clock patrols and management attention; concierge and hospitality staffing; and a dedicated mobile patrol service with associated staffing. Contact us for a free, professional consultation today! Call 443-471-7000. Don't forget to follow us on social media through Facebook, Twitter, Google+, and LinkedIn!