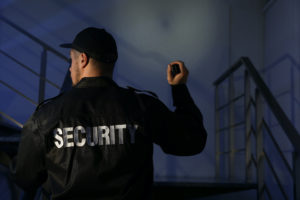 For properties that require widespread protection, security vehicle patrol offers a highly-visible security presence paired with fast response times. While these assignments can be very similar to foot patrols and stationary placements, a few additional qualities must be present in those who perform patrols in a vehicle. CES Security serves clients of every size, and security vehicle patrol services can suit a variety of properties. Here are some of the qualities that can help a security vehicle patrol officer while on the job.
Fast Reflexes Help, Both Inside and Outside of the Vehicle
While security vehicle patrol officers do not get into high-speed chase situations, quick responses and excellent driving skills are still incredibly important. Every security guard should be able to respond quickly. However, mobile patrol officers must also be able to watch for suspicious activity as they drive. Patrolling large properties while maintaining a secure perimeter can be challenging, but security officers on mobile patrols must be able to do it all.
Security Vehicle Patrol Officers Must Be Trained, Experienced, and Rational
Guards at CES Security undergo a rigorous training process, and adequate training is vital for mobile patrol officers. Knowing how to respond to emergencies, report criminal activity, and keep watch for unusual situations is something that guards learn through training and experience. Along with these qualities, security vehicle patrol officers must be able to make rational decisions and exercise good judgment. These professionals must often make decisions at a moment's notice, and staying level-headed under massive amounts of pressure is something that serves guards (and the properties they protect) well.
Communication Skills, Leadership, and Teamwork are Crucial
Like any other profession, being a security guard requires strong interpersonal skills. Not only must mobile patrol officers work well with their coworkers and facility visitors, but they must also be able to communicate effectively with law enforcement, criminals, and passersby. While many people look towards those in uniform for leadership, security guards must know how to work well as a team and follow directions when needed.
CES is Dedicated to Serving Our Community
Since opening in 1975, we have been committed to serving businesses in the District of Columbia, Virginia, and Maryland. Our values include proactive communication, honesty, reliability, and quality. We also believe in paying unparalleled attention to detail, no matter which service you require us to provide.
Our services include the following: professional security teams for permanent, temporary, emergency and rapid-response support; around-the-clock patrols and management attention; concierge and hospitality staffing; and a dedicated mobile patrol service with associated staffing. Contact us for a free, professional consultation today! Call 443-471-7000. Don't forget to follow us on social media through Facebook, Twitter, and LinkedIn!