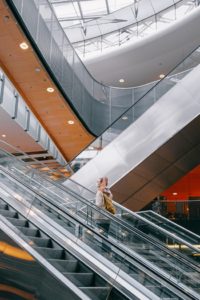 Businesses in every industry have faced new challenges due to the COVID-19 pandemic, and maintaining a high degree of physical security during these unpredictable times has been a struggle for many companies. An enormous amount of pressure has been placed on all facilities: closed businesses need to protect their assets, organizations with scaled-back operations need to maintain order and security, and essential facilities must remain fully functional and safe. To meet the developing security needs of their clients, companies that provide security services must adapt and deliver effective solutions. At CES Security, our team is still hard at work providing top-notch security services for our clients in Maryland and Washington, D.C.
PPE and Social Distancing: Keeping Businesses Functional and Safe
One of the most significant challenges that facilities face is keeping their visitors and staff healthy. People everywhere, either on their own or by government mandate, have integrated social distancing practices and disease-prevention measures into their daily lives. The consequences of neglecting these new necessities can be dire: factories and warehouses can lose their workforce to infection, and businesses that serve the public directly can become hotspots for coronavirus infection. Security professionals at CES Security are incorporating the use of PPE and social distancing into their strategies.
Maintaining Order in an Unpredictable Environment
Another challenging aspect of the COVID-19 pandemic has been the ever-changing restrictions placed on people and businesses in the name of public health. While keeping up with these new orders and policies is crucial in slowing the spread of disease, providers of security services have had to maintain their standards for security under an incredibly unpredictable set of circumstances. To cope with these constant changes, security professionals and businesses must remain in continuous communication to ensure that all internal policies and security protocols are updated, distributed to relevant staff, followed, and enforced.
Protecting Property and Assets for Closed Facilities
Many business owners have had to close their doors for an undetermined amount of time, leaving their properties vulnerable to theft and vandalism. Securing facilities that would otherwise be open for business is critical; many of these businesses are unaccustomed to being closed for such a long time, and their valuables are not adequately secured as a result. Security guards and mobile patrol officers can be incredibly useful in deterring and detecting crime at closed facilities, giving peace of mind to business owners.
CES is Dedicated to Serving Our Community
Since opening in 1975, we have been committed to serving businesses in the District of Columbia, Virginia, and Maryland. Our values include proactive communication, honesty, reliability, and quality. We also believe in paying unparalleled attention to detail, no matter which service you require us to provide.
Our services include the following: professional security teams for permanent, temporary, emergency and rapid-response support; around-the-clock patrols and management attention; concierge and hospitality staffing; and a dedicated mobile patrol service with associated staffing. Contact us for a free, professional consultation today! Call 443-471-7000. Don't forget to follow us on social media through Facebook, Twitter, and LinkedIn!