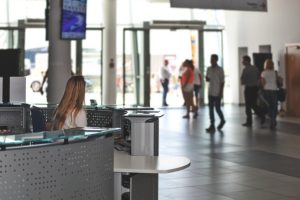 Businesses everywhere are adjusting their protocols to meet the social distancing guidelines set forth to mitigate the effects of the COVID-19 pandemic. Plastic shields, occupancy limits, and face coverings are all becoming commonplace in public locations and private businesses, but enforcing the use of these tools can be challenging. Desk attendants can play a key role in encouraging social distancing practices in your building. Here are a few measures that you can take to improve public health at your facility, and consider utilizing desk attendants to ensure compliance and provide quality customer service.
Install a Protective Barrier Between Visitors and Employees
One of the most visible measures that you can take to encourage social distancing is putting up a protective barrier between your staff and visitors. A clear plastic or glass shield above your reception desk and other customer-facing areas protects your employees while also sending the signal to visitors that your company is taking the pandemic seriously. These barriers can remind visitors to keep their distance from your employees and each other. Protective barriers are also useful for places like guard shacks and vehicle checkpoints.
Set Clear Policies
In many Maryland businesses, visitors are now required to wear masks or other cloth face coverings to slow the spread of COVID-19. If your facility is in an industry affected by any of the proclamations or executive orders in effect in your region, make sure that your staff and visitors are aware of these new requirements. Keep updated signs in and around your business to detail exactly what you expect of your guests during this time, including required face coverings or occupancy limits. Make sure that all of your staff members are aware of these policies and give set guidelines for enforcing them. Desk attendants can help inform your guests of these new policies.
Utilize Professional Desk Attendants
Finally, desk attendants are an excellent tool for enforcing social distancing guidelines and ensuring that your visitors are adequately informed and catered to. At CES Security, our team offers security guards and professional desk attendants to serve your property's needs and keep your facility safe and secure. A Concierge or Desk attendant can help your visitors by answering questions, checking in guests, and providing crucial information regarding your facility. If your property is in need of a team of professionals to manage your front desk or reception area, contact the experts at CES Security today.
CES is Dedicated to Serving Our Community
Since opening in 1975, we have been committed to serving businesses in the District of Columbia, Virginia, and Maryland. Our values include proactive communication, honesty, reliability, and quality. We also believe in paying unparalleled attention to detail, no matter which service you require us to provide.
Our services include the following: professional security teams for permanent, temporary, emergency and rapid-response support; around-the-clock patrols and management attention; concierge and hospitality staffing; and a dedicated mobile patrol service with associated staffing. Contact us for a free, professional consultation today! Call 443-471-7000. Don't forget to follow us on social media through Facebook, Twitter, and LinkedIn!