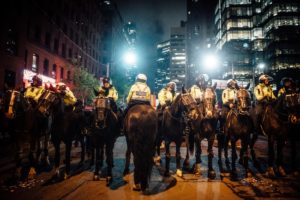 With cities across America facing demonstrations and periods of civil unrest, business owners and commercial property managers everywhere are scrambling to prepare. Regardless of one's stance on the current issues at play, keeping facilities secure is a necessity for properties in many cities and suburbs. There are a few things that property owners can do to prepare for protests, demonstrations, and periods of civil unrest, and the facility protection experts at CES Security are here to help.
Create a Facility Protection Plan Ahead of Time
Like any other aspect of emergency preparedness, the key to mitigating the effects of protests on businesses is thorough planning. Ideally, facility managers and business owners should discuss their emergency preparedness measures and any concerns with their security services provider well ahead of any incidents. For properties in large cities, facility protection during rallies and demonstrations should be well-thought-out ahead of time. While the intent for many of these events is to remain peaceful, facility protection plans should include protocols for looting, vandalism, and other hazards.
Ensure That Security Measures are in Place
Facility protection measures should be well-maintained and inspected ahead of any protests. Loose bricks or tiles should be discarded or stored, perimeter barriers should be repaired as needed, and security lighting and CCTV should be up and running. Properties in settings where looting or vandalism can be reasonably expected should consider boarding up windows and storing valuables. Consider increasing security personnel leading up to these events, and clearly communicate with visitors and employees which entrances and exits are in use. Access control during these events is critical, and security guards can help ensure that only authorized personnel are allowed entry.
Use Security Guards for Protection and Access Control
One of the most crucial aspects of facility protection, particularly in times leading up to protests, is a strong security presence. Having uniformed security guards on-site can help maintain strict access control before an event and restore normalcy to a facility after demonstrations have ceased. In emergencies, security guards are trained to follow protocols and restore order. They can be an incredibly valuable asset for any business in times of uncertainty, providing leadership and instruction for panicked visitors and employees. Preparedness for any situation is crucial for facilities across Maryland and the District of Columbia, and the team at CES Security is committed to providing the best possible security solutions to our valued clients.
CES is Dedicated to Serving Our Community
Since opening in 1975, we have been committed to serving businesses in the District of Columbia, Virginia, and Maryland. Our values include proactive communication, honesty, reliability, and quality. We also believe in paying unparalleled attention to detail, no matter which service you require us to provide.
Our services include the following: professional security teams for permanent, temporary, emergency and rapid-response support; around-the-clock patrols and management attention; concierge and hospitality staffing; and a dedicated mobile patrol service with associated staffing. Contact us for a free, professional consultation today! Call 443-471-7000. Don't forget to follow us on social media through Facebook, Twitter, and LinkedIn!