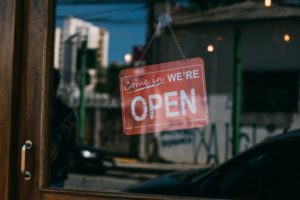 Businesses across Maryland are starting to reopen as local governing bodies ease COVID-19 restrictions. While many business owners are rejoicing, there are still a few safety and security concerns that need to be addressed. Social distancing and mask use are a crucial part of limiting the spread of this disease, and enforcing new rules within private establishments often falls upon the businesses themselves. Hiring security officers can help businesses reopen safely while providing a valuable security presence.
Security Officers Can Help Enforce Social Distancing and Mask Use
Many businesses require visitors to wear face coverings and maintain sufficient distance between individuals. Security officers can help enforce these guidelines by informing visitors of these protocols and restricting access for those who do not comply. More restrictive occupancy limits are also a popular mitigation measure, and security officers can help enforce these limits in some areas. Security guards and desk attendants are critical players in access control, and this role is as crucial as ever for health and safety.
On-Site Security Personnel Can Help Deescalate Stressful Situations
Americans have faced a seemingly endless barrage of significant global events so far this year. From the COVID-19 pandemic to concerns about racial equality, tensions are high in many communities throughout the country. On-site security officers can help employees deal with dissatisfied visitors or those who wish to do them harm. Security guards are trained to respond to emergencies and security threats, and your staff may not have the tools to calm agitated patrons. Investment in a security team may help to maintain a calm atmosphere and deescalate conflicts on your property.
Security Officers Maintain a Secure Facility
While there are plenty of unique concerns facing businesses today, facilities must remain equipped with the tools needed to maintain a secure perimeter and limit or deter criminal activity. Perimeter security, asset protection, and access control are still crucial for all kinds of facilities, and business owners should not let these concerns take a back seat. If you are concerned about the safety and security of your facility as you prepare to reopen, contact the team at CES Security.
CES is Dedicated to Serving Our Community
Since opening in 1975, we have been committed to serving businesses in the District of Columbia, Virginia, and Maryland. Our values include proactive communication, honesty, reliability, and quality. We also believe in paying unparalleled attention to detail, no matter which service you require us to provide.
Our services include the following: professional security teams for permanent, temporary, emergency and rapid-response support; around-the-clock patrols and management attention; concierge and hospitality staffing; and a dedicated mobile patrol service with associated staffing. Contact us for a free, professional consultation today! Call 443-471-7000. Don't forget to follow us on social media through Facebook, Twitter, and LinkedIn!