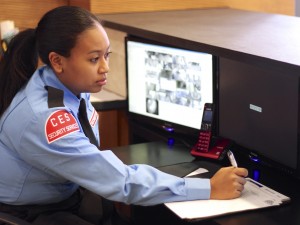 Security officers are tasked with the important job of making sure that your business, event, and property are secure. Keeping your guests or employees safe requires security guards to be well-versed in mobile patrol, crisis aversion, and crowd control, among other security responsibilities. Fulfilling various duties as safely and effectively as possible is paramount to the security of your property or event. But what exactly are the duties of a great security guard? Make an educated choice when it comes to hiring security–here are some of the top responsibilities of security officers.
Act Quickly
In the case of a security crisis or safety-related emergency, a security officer should be able to act quickly and keep a cool head. In a crisis situation, quick reflexes and correct action are key to de-escalating the situation and minimizing potential threats. Quick responses to a variety of dangerous situations are one of the most important responsibilities of security guards.
Ensure Procedures are Followed
Following procedure is important for patrolling officers, crowd-focused security, and access personnel alike. Security officers must strictly follow established procedures, such as searching guests prior to entry or denying building entry to those without an ID, in order to maintain a high level of security on a constant basis. This is the responsibility that allows you peace of mind when you hire a professional security service.
Control Crowds
Whether you need to maintain order at a large event or prevent crowd congestion in a venue, crowd control is a major responsibility of security officers. With effective crowd management, you can promote save evacuation processes and mitigate danger in the case of unruly crowds and conflicts. This also allows you to prevent injury to guests in the case of an emergency.
Observe Potential Issues
Security guards must be observant. By noticing potential safety hazards or security risks, security officers can prevent issues on the job and help your business or event to run smoothly. With effective observation skills, security officers can implement precautionary measures that can reduce safety and security risks.
Reporting
Lastly, a major responsibility of security guards is to report safety risks and criminal activity. An experienced security guard will call the police in an escalated situation and report any observed crimes or safety hazards that may have contributed to security risks on their watch.
CES is Dedicated to Serving Our Community
Since opening in 1975, we have been committed to serving businesses in the District of Columbia, Virginia, and Maryland. Our values include proactive communication, honesty, reliability, and quality. We also believe in paying unparalleled attention to detail, no matter which service you require us to provide.
Our services include the following: Professional security teams for permanent, temporary, emergency and rapid-response support; around-the-clock patrols and management attention; concierge and hospitality staffing; and a dedicated mobile patrol service with associated staffing. Contact us for a free, professional consultation today! Call 443-471-7000.  Don't forget to follow us on Social Media through Facebook, Twitter, and LinkedIn!