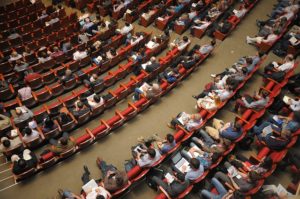 Organizing a large event can be difficult. With so many moving parts, it can be challenging to keep track of catering, entertainment, and more. Event security services can seem like just another service to manage, but it's a crucial part of making sure your event goes smoothly. After all, event security is important for keeping guests and organizers safe and secure. But when do you need event security services? Here are a few things to look for that will help you know when to hire event security services for your event.
1. Venue Requirements
A good indicator that you'll need to hire event security services is a venue requirement. Whether you're using an event hall or outdoor space, some venues require security services to be present in order to manage crowds and help prevent accidents or injuries during the event. Injuries on premises can be a major liability issue, and event security services can help handle the unexpected, keeping guests safe and secure in the case of a fire, unwelcomed intruders, or another incident. There are many reasons why a venue will require a security presence to control crowds and help to ensure guest safety.
2. Large Crowds
Crowd management is vital in any large event. Event security professionals are trained in crowd management in order to ensure guests at any event are as safe as possible. In the case of an emergency evacuation, an event security service can help the crowd move safely. The crowd will also feel safer with a visible event security presence. Event security services can also escort guests safely to parking or less crowded areas. This can be especially important for large events with large crowds that can be difficult to navigate without the help of event security.
3. Restricted Access
For big events, it's also essential to have effective control over entrances and exits to prevent intruders. Event security services can help you keep entries secure and restrict access to the event. This can help prevent criminal activity in the venue. Security can also escort uninvited guests off the premises of the event, which can help avoid an awkward situation or crowd congestion. Event security services can also check bags at the entrance to an event, allowing you to ensure your guests are safe and your event is secure.
CES is Dedicated to Serving Our Community
Since opening in 1975, we have been committed to serving businesses in the District of Columbia, Virginia, and Maryland. Our values include proactive communication, honesty, reliability, and quality. We also believe in paying unparalleled attention to detail, no matter which service you require us to provide.
Our services include the following: Professional security teams for permanent, temporary, emergency and rapid-response support; around-the-clock patrols and management attention; concierge and hospitality staffing; and a dedicated mobile patrol service with associated staffing. Contact us for a free, professional consultation today! Call 443-471-7000.  Don't forget to follow us on Social Media through Facebook, Twitter, and LinkedIn!