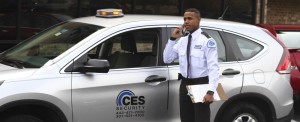 While security officers provide valuable services to many types of businesses and events, the responsibilities of a mobile patrol officer are not as well known. While mobile patrol services share many of the same goals as stationary security guards, including quick response to safety hazards and security risks, some business managers or property managers may not understand what a mobile patrol officer can do for them. In fact, mobile patrol services may entail duties that you may not realize. To better understand the responsibilities of mobile security, here is a guide to some of the duties of a mobile patrol officer.
Exterior Patrolling
Mobile patrol services are ideal for properties with large outdoor spaces, since mobile patrol officers are trained to routinely patrol large areas and keep perimeters surveyed for potential safety or security risks. Mobile security guards can typically cover a larger area, since they are able to move about the property and establish effective patrolling strategies. This can include irregular patrol schedules and routes in order to avoid observable routines that can be predicted by potential trespassers or vandals. Mobile patrol officers may also use vehicles to patrol especially large or high-risk areas of a property, making them equipped for a variety of security tasks on a larger property.
Interior Patrolling
Mobile patrol doesn't just apply to the outdoors. Security officers are also equipped to patrol a variety of building types or even several separate building sites. Mobile patrol services include the patrol of these buildings, inspection and maintenance of security systems, removing potential safety hazards, and enforcing emergency safety protocols.
Key Holding
Mobile security officers protect your business and property, as well as employees, customers, or guests. This can often mean opening and closing the property to ensure that a trusted presence is keeping the property secure in the off hours. Mobile patrol officers can also respond quickly in case a security alarm is set off and contact first responders if necessary.
Health and Safety Protocols
Beyond potential criminal activity, mobile patrol officers are also trained to observe safety risks. They can give advice or guidance when it comes to health and safety protocols, and they can be first aid trained in case of an emergency. This makes mobile security services an important presence in case of an accident on your property.
CES is Dedicated to Serving Our Community
Since opening in 1975, we have been committed to serving businesses in the District of Columbia, Virginia, and Maryland. Our values include proactive communication, honesty, reliability, and quality. We also believe in paying unparalleled attention to detail, no matter which service you require us to provide.
Our services include the following: Professional security teams for permanent, temporary, emergency and rapid-response support; around-the-clock patrols and management attention; concierge and hospitality staffing; and a dedicated mobile patrol service with associated staffing. Contact us for a free, professional consultation today! Call 443-471-7000.  Don't forget to follow us on Social Media through Facebook, Twitter, and LinkedIn!