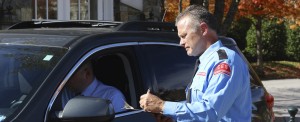 Security is an important part of making sure that your business, property, employees, and customers are safe from any potential security risks. In addition to standard security services, you may consider a mobile patrol service to increase security. By patrolling, your security services will be more effective and more visible when compared to standing guards. This can increase perimeter security and allow you greater peace of mind. So why use a mobile patrol service for your property? Here are some of the major benefits of a mobile patrol service.
Increased Security
With a mobile patrol service, your security can simply be more effective. Whether your property is large or small, patrolling will allow security professionals to assess risks to your property better and deter any unwanted intruders. Mobile patrol services can patrol on a schedule or on a less regular basis to meet your specific needs and prevent an identifiable routine. These methods not only help you find the ideal security service to meet your needs, but it also helps to boost safety and security on your property.
Peace of Mind
Having a security presence provides valuable peace of mind. After all, with a trusted security service, you can rest assured that your property will be safe overnight or whenever you may need constant monitoring. A security presence can also communicate to clients and employees that their safety is important to you. This kind of communication is important for building employee morale and customer loyalty. At the end of the day, you have plenty of other things to worry about concerning your business, and with a mobile patrol service, you'll have one less concern.
Cost Effective
A major benefit of using a mobile patrol service is the money you can save. Vandalism and theft can represent huge losses, not just in stolen property, but also in damages. Broken windows and other damaged property can really add up, and a mobile patrol service can go a long way toward preventing this kind of damage. Investing in your security will allow you to avoid costly damages and the headaches that come with theft and other criminal activity, saving you money in the long run.
CES is Dedicated to Serving Our Community
Since opening in 1975, we have been committed to serving businesses in the District of Columbia, Virginia, and Maryland. Our values include proactive communication, honesty, reliability, and quality. We also believe in paying unparalleled attention to detail, no matter which service you require us to provide.
Our services include the following: Professional security teams for permanent, temporary, emergency and rapid-response support; around-the-clock patrols and management attention; concierge and hospitality staffing; and a dedicated mobile patrol service with associated staffing. Contact us for a free, professional consultation today! Call 443-471-7000.  Don't forget to follow us on Social Media through Facebook, Twitter, and LinkedIn!