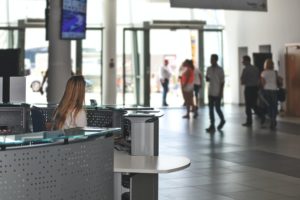 While security is of the utmost importance for business owners and facility managers, ensuring a pleasant and satisfying experience for clients and visitors is also crucial. Customers require service from knowledgeable, professional, and attentive staff, particularly when they visit your lobby or front desk for help. Desk attendants must help visitors with a wide range of issues, from giving directions and assistance to enforcing visitor policies and access control protocols. The benefits of working with a team of professionals are clear: visitors that have a good customer service experience are more likely to return, and leaving your reception area in good hands can have positive outcomes for your facility's safety and emergency preparedness efforts.
Desk Attendants Require Specific Qualities for Excellent Service
While some business owners opt to staff their front desks in-house, finding professionals with the requisite customer service skills can be challenging. Desk attendants must be attentive without being smothering, and they must find a balance between being friendly and being professional. Your front desk attendants are often the first people your guests see, and it is impossible to take back a first impression. Working with the team at CES Security can help you ensure that you've got the best professionals for the task.
High-Quality Service Boosts Your Bottom Line
Improving customer experience isn't just the right thing to do; it's also just good business sense. Happy visitors are more likely to return, and prompt attention from desk attendants can keep potential business from walking away. Having a dedicated staff of desk attendants also allows your other employees to focus on the jobs for which you hired them, rather than running back and forth between their offices and the reception area to handle clients.
Utilizing Desk Attendants Boosts On-Site Safety and Emergency Preparedness, Too
While boosting customer satisfaction is important, there are other practical reasons to consider hiring desk attendants. Access control measures are vital for physical security, and desk attendants are a valuable asset in ensuring that all visitors are accounted for and have not mistakenly entered restricted areas. These professionals can also help spot suspicious activity, reporting it to nearby security guards if necessary. A team of professional desk attendants also gives your guests somewhere to turn for guidance in the event of an emergency.
CES is Dedicated to Serving Our Community
Since opening in 1975, we have been committed to serving businesses in the District of Columbia, Maryland, and Virginia. Our values include proactive communication, honesty, reliability, and quality. We also believe in paying unparalleled attention to detail, no matter which service you require us to provide.
Our services include the following: professional security teams for permanent, temporary, emergency and rapid-response support; around-the-clock patrols and management attention; concierge and hospitality staffing; and a dedicated mobile patrol service with associated staffing. Contact us for a free, professional consultation today! Call 443-471-7000. Don't forget to follow us on social media through Facebook, Twitter, and LinkedIn!