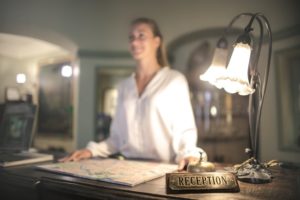 If your property needs lobby attendants to improve customer experience and provide valuable support, you may be tempted to simply hire new employees to handle the front desk in-house. While this may seem like the most efficient and cost-effective option, hiring your own lobby attendants often comes with a slew of hidden costs and inconveniences. However, working with CES Security allows business owners and property managers to maintain fully-staffed facilities without a great deal of the hassle. Our lobby attendants can provide your visitors with the attention, excellent service, and professionalism that they deserve, all while minimizing costs and complications for your business.
All the Perks of Professional Lobby Attendants Without the Hassle (and Cost) of Hiring More Staff
Any new hiring effort requires hard work on the part of HR professionals and managers, who often have other important work to do for your business. Things like insurance, onboarding, training, and other expenses can add up quickly. These struggles and costs are amplified when hiring for new positions; if your property has never needed lobby attendants, finding the right candidates and creating an internal infrastructure to manage them can be an enormous task. At CES Security, our clients get all of the benefits of a team of qualified lobby attendants without having to take on the responsibilities and expenses associated with hiring more staff members.
Leave the Recruitment, Scheduling, and Personnel Issues to Our Team
Costs and onboarding inconveniences aside, there are many other perils that can come when businesses hire their own lobby attendants. Creating a work schedule and managing a team of lobby attendants can present a significant workload, and scheduling mishaps are a nightmare. Managers may not be able to find candidates that meet their standards, or worse: some new hires simply aren't a great fit. No-shows, behavioral issues, and other personnel problems can wreak havoc on any business. By working with CES Security for lobby attendants, managers can rest assured that the professionals they trust with their guests can handle the task.
CES is Dedicated to Serving Our Community
Since opening in 1975, we have been committed to serving businesses in the District of Columbia, Maryland, and Virginia. Our values include proactive communication, honesty, reliability, and quality. We also believe in paying unparalleled attention to detail, no matter which service you require us to provide.
Our services include the following: professional security teams for permanent, temporary, emergency and rapid-response support; around-the-clock patrols and management attention; concierge and hospitality staffing; and a dedicated mobile patrol service with associated staffing. Contact us for a free, professional consultation today! Call 443-471-7000. Don't forget to follow us on social media through Facebook, Twitter, and LinkedIn!