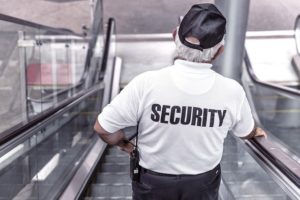 At the start of a new year, business owners and facility managers often consider the strengths, weaknesses, and trends that have made themselves evident over the last twelve months. After the eventful year 2020 has been, there are many opportunities for businesses to grow and improve. With public health threats and civil unrest dominating the news cycle in 2020, facility managers must look to bolster their facility protection measures in 2021. Here are a few ways to improve facility protection strategies and ensure a secure property in the new year.
Review and Revise Current Facility Protection Policies
Perhaps the best place to start when improving your facility protection strategies is your existing set of protocols. Work with a security services expert to analyze your current facility protection policies, emergency preparedness plans, and public health protocols. If there are areas to improve, now is an excellent time to recalculate and implement those improvements. If your policies are sound, the start of the new year is a great time to give your staff members a refresher on company policies so that they have all necessary information when they need it.
Assess Vulnerabilities, Areas of Improvement, and Potential Threats
Analyzing your facility protection strategy on paper is great, but a truly well-rounded approach to physical security requires intimate knowledge of your property's physical layout and perimeter weaknesses. A team of security services professionals can help you assess your facility, spotting vulnerabilities and blind spots to either rectify or address in your security strategy. It is also essential to consider potential threats that your facility may encounter throughout the next year. Your facility protection measures should account for possible civil unrest and COVID-related regulations and concerns, as these two factors are unlikely to go away any time soon.
Invest in Security Guards for On-Site, Rapid-Response Facility Protection
Facility protection strategies, plans, and written procedures are one thing, but nothing can replace an on-site security presence. Consider hiring security guards from CES Security to round out your facility protection plan. Whether you choose to station security guards at specific points or invest in mobile patrols, a team of professional security guards can help ensure that your facility is protected and well-equipped for any threat that comes your way.
CES is Dedicated to Serving Our Community
Since opening in 1975, we have been committed to serving businesses in the District of Columbia, Maryland, and Virginia. Our values include proactive communication, honesty, reliability, and quality. We also believe in paying unparalleled attention to detail, no matter which service you require us to provide.
Our services include the following: professional security teams for permanent, temporary, emergency and rapid-response support; around-the-clock patrols and management attention; concierge and hospitality staffing; and a dedicated mobile patrol service with associated staffing. Contact us for a free, professional consultation today! Call 443-471-7000. Don't forget to follow us on social media through Facebook, Twitter, and LinkedIn!