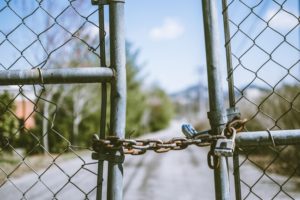 As we approach the end of 2020, people from all walks of life are thinking back on this year's events. Many business owners are also looking forward and considering ways to improve after the challenges and changes of 2020. Security is a major concern for all kinds of businesses, and now is the time to reassess your facility's security. The next time you walk through your place of business, try to look at things from a security services perspective. Where are you most vulnerable? Which threats are likely? How can you address those threats? The security services experts at CES Security are standing by to help you protect your property, employees, and visitors.
Security Services Basics: Examine Your Facility's Layout
You probably know your building better than almost anyone out there, but this familiarity can have a downside. While you might be focused on back offices and front entrances, potential trespassers and thieves are more likely to try out lesser-known and less-visible points of entry. Walk through your facility with a different goal in mind: look for ways to enter, access valuables, and move around undetected. If you know (or suspect) that your facility is vulnerable, work with a security services company to fortify your security plan.
Evaluate Lighting, Visibility, and Access Control
Next, take a look at your property in the dark. Are there areas that overhead lights do not cover? Do you have fences or pillars that obstruct a clear view? You may want to consider rectifying these issues and bolstering your access control measures by hiring front desk attendants or security guards. These professionals can help limit access to secure areas, provide a valuable visible crime deterrent, and detect and respond to suspicious activity.
Consider Addressing Vulnerabilities With Security Guards, Desk Attendants, and Mobile Patrols
Once you have gotten a glimpse of the weak spots in your physical security strategy, consult a team of security services professionals and discuss potential solutions. At CES Security, we offer various security solutions, including security guards, desk and lobby attendants, and mobile patrols. Each of our valued clients has unique security concerns, and our expert staff works diligently to ensure that each facility under our care is protected. Contact us today to learn more about how CES Security can protect your business.
CES is Dedicated to Serving Our Community
Since opening in 1975, we have been committed to serving businesses in the District of Columbia, Maryland, and Virginia. Our values include proactive communication, honesty, reliability, and quality. We also believe in paying unparalleled attention to detail, no matter which service you require us to provide.
Our services include the following: professional security teams for permanent, temporary, emergency and rapid-response support; around-the-clock patrols and management attention; concierge and hospitality staffing; and a dedicated mobile patrol service with associated staffing. Contact us for a free, professional consultation today! Call 443-471-7000. Don't forget to follow us on social media through Facebook, Twitter, and LinkedIn!