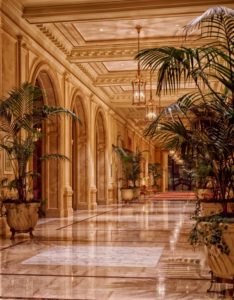 Running a hotel can present you with exciting daily challenges. With new guests every night, you never know what can happen. While the summer tourist season is done for the year, the holidays are just around the corner. Is your hotel prepared for the increased activity of new guests? Follow these facility protection tips to keep your building, staff, and guests safe during the holiday busy season. If you have any further questions about how to better protect your property, contact the experts at CES Security for a consultation.
Analyze Your Facility Protection Strategy
The first step towards a secure property is analysis. Work with a trusted security services company to examine your facility's current security measures and check for any weak spots. This is essential for hotels in particular. Hotel management must consider both external and internal safety concerns. How are you protecting your guests from crime in the surrounding area, and how are you protecting them from unwelcome visitors or even other guests? CES Security has over 40 years of experience working with hotels in the Baltimore, Maryland area and the District of Columbia. Our expert consultants are knowledgeable about the unique security challenges that hotels face. They can help identify areas where you can improve your facility protection measures and introduce plans to rectify these weaknesses.
Create a Facility Protection Plan
Once your security services company assesses your property, you must work with them to create a facility protection plan that works for you. This might include installing cameras, upgrading locks, or updating the way you store keys or customer information. Because hotels often house many guests at once, your security and safety plans must account for events such as natural disasters, medical emergencies, and armed intruders. This can help your staff address hazards safely and effectively.
Utilize Security Guards
Security guards can be an excellent addition to any facility protection plan, especially in hotels. You can station security guards at your building's entrance or lobby, or you can have security guards patrol your entire property. By working with your security services provider, you can ensure that you always have a security guard when and where you need them. Contact the professionals at CES Security today to learn how to protect your property, staff, and guests with trained security guards and other facility protection measures.
CES is Dedicated to Serving Our Community
Since opening in 1975, we have been committed to serving businesses in the District of Columbia, Virginia, and Maryland. Our values include proactive communication, honesty, reliability, and quality. We also believe in paying unparalleled attention to detail, no matter which service you require us to provide.
Our services include the following: professional security teams for permanent, temporary, emergency and rapid-response support; around-the-clock patrols and management attention; concierge and hospitality staffing; and a dedicated mobile patrol service with associated staffing. Contact us for a free, professional consultation today! Call 443-471-7000. Don't forget to follow us on social media through Facebook, Twitter, and LinkedIn!