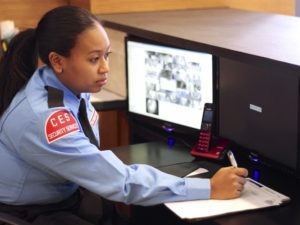 When you hire security guards to watch over your property, you are putting a large amount of trust in their hands. While you can rest assured that the guards at CES Security are trained and qualified, which specific qualities do they have that allow them to excel? In this blog, we will discuss a handful of traits that make a diligent, thorough, and all-around excellent security guard.
Communication Skills
Communication is essential in any occupation, but it is particularly important in security services. Security guards must communicate effectively with clients, employees, and members of the public on a daily basis, and they may need to relay pertinent information to emergency response personnel. In these instances, the ability to communicate facts quickly, clearly, and concisely is crucial.
Reliability
Security guards are hired to protect properties and assets, often when they are most vulnerable. Because of this, they must be both reliable and trustworthy. They must be trusted to watch over valuable assets when no one else is around, and they have to stay alert at all times. A security guard needs to be on time for their shifts, and they need to stay on task and avoid distractions throughout their patrols.
Physical and Mental Competence
In an ideal world, crime would not occur. Because we do not live in an ideal world, our security guards must be able to address any security issues that arise. During emergencies, crimes in progress, and natural disasters, being physically and mentally competent are vital characteristics for security guards. Getting places quickly, scaling many flights of stairs, making smart decisions, and even lifting or moving objects may come in handy.
Critical and Creative Thinking
Security guards often face a variety of unusual and critical situations on the job. From theft to trespassing and lost children to natural disasters, they see it all. Because of this, it is essential that security guards have incredibly sharp critical thinking skills. They sometimes need to make split-second decisions, and the ability to think both critically and creatively to solve problems is crucial.
Dedication and Passion for Security
Like any other occupation, some of the best security guards are the ones who have a passion for security, law enforcement, and emergency services. When security guards are interested and engaged in their profession, they can use every shift to learn, hone their skills, and gain experience.
CES is Dedicated to Serving Our Community
Since opening in 1975, we have been committed to serving businesses in the District of Columbia, Virginia, and Maryland. Our values include proactive communication, honesty, reliability, and quality. We also believe in paying unparalleled attention to detail, no matter which service you require us to provide.
Our services include the following: professional security teams for permanent, temporary, emergency and rapid-response support; around-the-clock patrols and management attention; concierge and hospitality staffing; and a dedicated mobile patrol service with associated staffing. Contact us for a free, professional consultation today! Call 443-471-7000. Don't forget to follow us on social media through Facebook, Twitter, and LinkedIn!