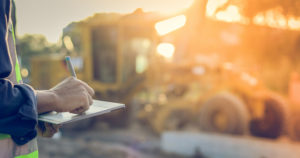 Some people do not think of construction sites as particularly high-priority properties when it comes to security services. However, any construction or security professional knows that facility protection is essential for construction sites. Not only are there countless pieces of expensive equipment and materials lying around, but there are also plenty of opportunities for trespassers to injure themselves. This can create delays in work, legal liability, or worse. Follow these four facility protection tips to keep your construction site safe and secure.
1. Use Secure Fencing
One of the most vital tools for creating a secure worksite is to install security barriers. These can be temporary like chain-link fences, or they can be more permanent barriers. Effective perimeter security relies on uniform coverage. When choosing a fence, pick materials and layouts that leave no gaps or weak spots. Your fence should be secured by a strong gate, and a posted security guard can be extremely beneficial.
2. Keep a Detailed Inventory
The only way to keep your construction materials safe is to keep track of what you have. A detailed, up-to-date inventory is essential in keeping your assets protected. Whether you use electronic tracking or a physical ledger, it is vital to keep tabs on equipment, raw materials, and tools. This helps prevent and detect theft, both from internal and external actors.
3. Make Staff Awareness a Priority
Creating a culture of awareness is extremely valuable in keeping a construction site secure. Many construction professionals are conscientious when it comes to physical safety in the workplace. Administrators should do their part to foster the same attention to detail when it comes to security and suspicious activity. Encourage employees at every level to report any sightings of things that are out of the ordinary.
4. Hire a Security Service
One of the strongest tools when it comes to facility protection is to hire security services from a reputable company. CES Security has been providing construction sites, warehouses, and other large commercial properties with quality security services since 1975. Whether you need security guards, mobile patrols, or a security consultation, CES Security can work with you to meet your business's needs.
CES is Dedicated to Serving Our Community
Since opening in 1975, we have been committed to serving businesses in the District of Columbia, Virginia, and Maryland. Our values include proactive communication, honesty, reliability, and quality. We also believe in paying unparalleled attention to detail, no matter which service you require us to provide.
Our services include the following: professional security teams for permanent, temporary, emergency and rapid-response support; around-the-clock patrols and management attention; concierge and hospitality staffing; and a dedicated mobile patrol service with associated staffing. Contact us for a free, professional consultation today! Call 443-471-7000. Don't forget to follow us on social media through Facebook, Twitter, and LinkedIn!