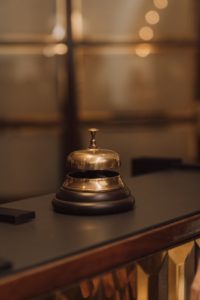 It's a fact: most people don't like to wait. Wait times are the standard by which many service industries are measured, and a client that is kept waiting will often leave unhappy. Even with otherwise excellent service, long wait times can sour a guest's experience and lead to bad word-of-mouth for your business. Hiring a team of attentive desk attendants can ensure that you're never short-staffed and, by extension, that your guests don't need to wait longer than necessary. Desk attendants from CES Security are an asset for all kinds of businesses, boosting customer experience and helping your other employees perform their best!
Benefits of Desk Attendants for Guests
A front desk that is fully staffed with professional attendants can make or break a visitor's experience. With professional assistance, your guests can get the information and help they need to get in, get out, and get on with their day. Desk attendants who have experience in customer service can give your guests the attention they need while ensuring protocols and best practices are followed. These professionals are also adept at resolving conflicts diplomatically, keeping tempers from flaring and making sure that guests stay happy.
Desk Attendants Help Your Employees, Too!
Desk attendants aren't just an investment in customer service; these professionals help your other employees, too! Without a full staff of desk attendants, your other employees likely have to pick up the slack. Taking time away from their work to help guests means subpar productivity, and constant interruptions are frustrating for staff members and can cause errors in their work. Working with a team of desk attendants from CES Security means that your employees can focus on the work they were hired to do, resulting in better outcomes and happier employees.
Better Service, Better Security, and a Better Bottom Line
Although it may seem like just another expense, investing in desk attendants is often a smart business decision. Better service leads to positive guest experiences, recommendations, and a good reputation. Desk attendants often assist with a facility's access control measures and act as a set of eyes in the reception area, boosting security. Choosing CES Security instead of hiring desk attendants in-house is easier, faster, and often more cost-effective due to decreased overhead and guaranteed quality. If your reception area is always understaffed, reach out to the experts at CES Security!
CES is Dedicated to Serving Our Community
Since opening in 1975, we have been committed to serving businesses in the District of Columbia, Maryland, and Virginia. Our values include proactive communication, honesty, reliability, and quality. We also believe in paying unparalleled attention to detail, no matter which service you require us to provide.
Our services include the following: professional security teams for permanent, temporary, emergency and rapid-response support; around-the-clock patrols and management attention; concierge and hospitality staffing; and a dedicated mobile patrol service with associated staffing. Contact us for a free, professional consultation today! Call 443-471-7000. Don't forget to follow us on social media through Facebook, Twitter, and LinkedIn!