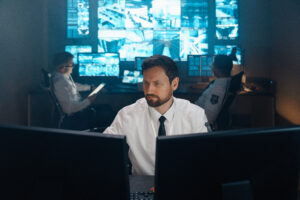 In a world where cybersecurity is at the forefront of everyone's mind, many businesses are failing to shore up their physical security. Even for an online business, warehouses and distribution centers need to be kept secure from potential criminals. The state of physical security has gotten increasingly troubling over the past couple of years, and 2023 is expected to continue the trend of rising physical security incidents.
Physical Security Incidents Are On the Rise
A research report by Pro-Vigil, "The State of Physical Security Entering 2023," brought in data from 149 leaders from various industries on their experience with physical security. Of these 149 respondents, 28% of them saw an increase in physical security incidents throughout 2022. 91% of respondents also said that they expect physical security issues to continue to be a problem in 2023. 48% of respondents reported that theft was the main issue with physical security.
While supply chain issues have eased up over the past few months to some degree, the reality is that economic uncertainty is another driving factor for physical security issues. With so many respondents from various industries reporting that theft was the most common physical security incident, it's important to consider security strategies that can prevent this issue from occurring if you feel your business is at risk.
Ultimately, the belief is that physical security risks won't improve over the course of 2023, and that means that businesses need to reevaluate their physical security strategies to ensure that they can prevent security incidents and keep their bottom line from taking a significant hit over the course of the year.
Businesses Aren't Updating Their Physical Security
Although the expectation for physical security in 2023 is that these events will continue to be a problem, and 91% of respondents to Pro-Vigil's research report also stated that they expect these issues to continue, 42% of those respondents also said that they have not changed their physical security strategies to account for this rise in security threats. In fact, only 41% of respondents reported that they were using remote video surveillance systems.
What Can You Do to Shore Up Your Defenses?
Whether you already have video surveillance or other security systems in place, one of the best investments you can make for physical security is a security guard. Security guards provide deterrence, letting everyone know that you're taking the security of your business seriously. They can also provide security strategies, offering insight into how you can alter business operations in a way that won't trouble customers, visitors, clients, or employees—but will manage to provide some extra security for your facility. Security guards are also great because they can catch suspicious activity before it becomes a crime or security incident, allowing them to act preemptively and potentially avoid the issue altogether. They keep close tabs on your business, protect your employees, and are also valuable assets in various emergency situations. That's why they are one of the best investments you can make when it comes to physical security.
CES is Dedicated to Serving Our Community
Since opening in 1975, we have been committed to serving businesses in the District of Columbia, Maryland, and Virginia. Our values include proactive communication, honesty, reliability, and quality. We also believe in paying unparalleled attention to detail, no matter which service you require us to provide.
Our services include the following: professional security teams for permanent, temporary, emergency, and rapid-response support; around-the-clock patrols and management attention; concierge and hospitality staffing; and a dedicated mobile patrol service with associated staffing. Contact us for a free professional consultation today! Call 443-471-7000. Don't forget to follow us on social media through Facebook, Twitter, and LinkedIn!