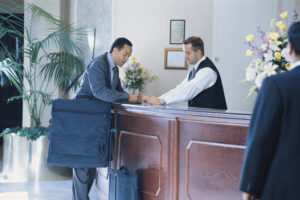 Hotels are a hotbed of activity, and that can lead to problems. For this reason, security guards are an essential asset for every hotel. They provide a number of valuable skills and services that keep the hotel running smoothly, and they protect all of the guests and staff from various issues that can arise at any time.
Desk Attendants
Security guards make great desk attendants because they are trained to stay calm and friendly, even in stressful situations. Working the front desk of a hotel, especially during peak season or a large event, can be the pinnacle of stressful. Guests that have been traveling may be tired, hungry, stressed, and looking for whoever they can take it out on.
Security guard desk attendants are also great because they have a perfect view of the front door. Many threats can enter through this way, and security guards are skilled in noticing unusual behavior or taking mental note of strange details. This gives them the opportunity to catch potential problems before they get too far into your hotel and threaten the safety of guests or staff.
Visible Security Presence
A uniformed security guard provides visible security that will work to deter potential criminals from attempting to target your business. In many cases, potential criminals will look for businesses and facilities that have lower security, allowing them a better chance to escape (preferably undetected). If they can see a security guard on the premises, they usually won't take the risk of being caught before they can get away.
Safety
A security guard protects the safety of both guests and employees, which is why they're an invaluable asset. They can help with customer or staff conflicts, keep an eye out for safety issues, watch for suspicious visitors, and make sure unauthorized individuals aren't getting into rooms they shouldn't be able to access.
Events
Large events and large crowds can be a recipe for trouble if you don't have trained security guards available to keep an eye on everything. They're important for watching access points, keeping the crowd under control, and providing support in case of an incident.
Emergency Response
A lot of people go in and out of hotels on a daily basis, and it's just statistics that there will be emergencies that require trained and experienced personnel. Security guards are excellent for this because they are able to remain calm and assist in the event of a fire or other natural disaster, either escorting frightened staff and guests to a safe area or relaying instructions that will help everyone stay safe.
They are also important for medical emergencies. They are often trained in basic first aid and can keep their cool long enough to ensure that someone who needs help will have access to it as soon as possible. They can also maintain calm around the individual and direct others in order to keep them calm and ensure that the situation doesn't get out of hand.
CES is Dedicated to Serving Our Community
Since opening in 1975, we have been committed to serving businesses in the District of Columbia, Maryland, and Virginia. Our values include proactive communication, honesty, reliability, and quality. We also believe in paying unparalleled attention to detail, no matter which service you require us to provide.
Our services include the following: professional security teams for permanent, temporary, emergency, and rapid-response support; around-the-clock patrols and management attention; concierge and hospitality staffing; and a dedicated mobile patrol service with associated staffing. Contact us for a free professional consultation today! Call 443-471-7000. Don't forget to follow us on social media through Facebook, Twitter, and LinkedIn!