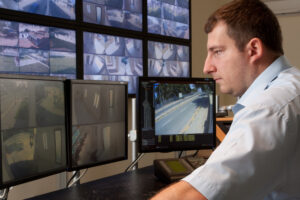 Every business should undergo a regularly-scheduled physical security assessment. These assessments help business owners determine the security risks affecting their business and whether they have the necessary resources to counteract their facility's vulnerabilities. Each step should be done thoroughly in order to properly determine where more security is needed to protect your business.
Identify Risks
The first step in any physical security assessment is identifying the risks to your business and facility. Understanding exactly what your business is up against will help you determine where you need to focus your security efforts as you go through your assessment. Risks can be as simple as entrances and exits, but can also include complex risks such as area crime rate and which crimes are most prevalent. For example, if you're aware that vandalism is a common security threat in your area, you can employ security measures to counteract this risk.
Determine Risk Validity
Once you've done a thorough analysis of identifiable risks, you need to determine the validity of those risks. For any business, breaking and entering is always a risk because every business facility has to have a point of access. However, this step of your physical security assessment determines whether that risk is valid for your business—in other words, is it likely? For every risk you have identified, you now have to determine whether it's a likely scenario that you need to protect your business from.
Assess Basic Facility Security
The next step in a physical security assessment is checking your facility's basic security. Basic security is the general secureness of the facility—doors latching properly, windows undamaged, walls and structural components in good repair, etc. It's a bit harder to secure a facility that is falling apart because there can be ways for potential criminals to access the building that you don't know about. If you're not aware of issues, you can't protect your business from potential threats aiming to exploit these vulnerabilities.
Assess Physical Security Systems
Most businesses have various security systems in place. These can include video surveillance systems and access control systems, among others. However, just because they're there, doesn't mean they're effectively doing their job. Look over your security systems to determine if there are any blind spots, if the systems are dated, whether they are in good working order, and any other potential issues with these systems.
Check Security Procedures
Once you've established the state of your security systems, the final step is to assess your facility's security procedures. This is an overview of how your facility handles daily security practices. Some questions to consider are:
Do you have

security guards

stationed around the facility?

Do you have

night guards

to ensure your business is secure during off-hours?

Do you have emergency procedures in place?

Is your staff trained to deal with emergency situations?
CES is Dedicated to Serving Our Community
Since opening in 1975, we have been committed to serving businesses in the District of Columbia, Maryland, and Virginia. Our values include proactive communication, honesty, reliability, and quality. We also believe in paying unparalleled attention to detail, no matter which service you require us to provide.
Our services include the following: professional security teams for permanent, temporary, emergency, and rapid-response support; around-the-clock patrols and management attention; concierge and hospitality staffing; and a dedicated mobile patrol service with associated staffing. Contact us for a free professional consultation today! Call 443-471-7000. Don't forget to follow us on social media through Facebook, Twitter, and LinkedIn!