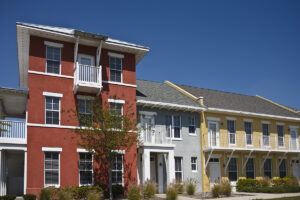 In an era marked by increasing concerns about personal safety and property protection, residential complexes need to seek effective measures to ensure the well-being of their residents and employees. Among the various security options available, hiring professional security guards has emerged as a reliable and proactive approach. These dedicated personnel offer a multitude of benefits that extend beyond mere surveillance. From deterring potential intruders to providing a sense of reassurance and enhancing overall safety, security guards play an integral role in maintaining a secure environment for everyone that lives or works at your residential complex.
Make Your Complex More Desirable
Security guards don't just keep your residential complex safe, they also make it more desirable for prospective residents. In particular, those with families will feel much more secure and appreciate the added attention to ensuring that your complex is safe for everyone who lives in it. This will make it easier to fill units and will also likely reduce turnaround by keeping current residents from moving out.
Offer Peace of Mind For Residents
Current residents get to enjoy the peace of mind that a security guard brings to your residential complex. They will feel safer knowing someone is always on duty and ready to spring into action in case of an issue or emergency. Law enforcement or emergency services take time to arrive, so having an on-site security guard that is just a phone call away to help while you wait for these services is great for helping people feel safe and secure.
Minimize Criminal Activity
An active and visible security presence is the best deterrent available. Those who are thinking about committing crimes, such as breaking and entering, theft, or vandalism, will think twice when they realize that security guards are always available and able to respond immediately.
Respond to Issues Quickly
Speaking of responding immediately, it's one of the many benefits of having security guards for your residential complex. Whether it's a crime, emergency, or a simple disturbance, they're always available to respond right away. This means all issues can be handled quickly, limiting damage and maintaining resident confidence in your ability to keep them safe.
Keep Tabs on Employees
While security guards are often hired for the express purpose of protecting residents, they can also keep tabs on and protect employees. Security guards can ensure that employees are working during their shifts and limit their willingness to put off their work. Security guards are also important in cases of employee conflict. They are excellent at conflict de-escalation and can quickly diffuse a tense situation in order to maintain a calm and safe working environment for everyone.
CES is Dedicated to Serving Our Community
Since opening in 1975, we have been committed to serving businesses in the District of Columbia, Maryland, and Virginia. Our values include proactive communication, honesty, reliability, and quality. We also believe in paying unparalleled attention to detail, no matter which service you require us to provide.
Our services include the following: professional security teams for permanent, temporary, emergency, and rapid-response support; around-the-clock patrols and management attention; concierge and hospitality staffing; and a dedicated mobile patrol service with associated staffing. Contact us for a free professional consultation today! Call 443-471-7000. Don't forget to follow us on social media through Facebook, Twitter, and LinkedIn!