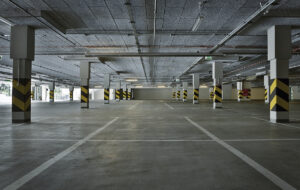 Parking garages are a common sight in modern society. They're necessary for managing parking at multi-level, high-traffic buildings since a standard parking lot simply won't offer enough space to hold all of the vehicles that arrive on a daily basis. Some common places that have parking garages include hospitals, malls, and even some residential complexes.
Many parking garages lack appropriate security. Unfortunately, this leaves both people and property at risk. Having strong parking garage security protects the property of the facility as well as the property of the staff and visitors, as well as the safety of everyone who comes through the garage. 
Why do parking garages need security?
It's easy to think that a parking garage doesn't really need much in the way of security. People park their cars and then head to wherever they're going—no big deal. Unfortunately, that's not always the case. A parking garage provides a dimly lit and mostly-empty space for potential criminals and threats to lurk, and they can see a lot of activity in a single day which can end in disaster.
Crime
A parking garage without acceptable security can end up becoming a hotbed of criminal activity. This can include theft, vandalism, and even assault. The poor lighting and full cover make it easier for criminals to avoid getting caught, which emboldens them. Having strong, visible security measures will make any potential criminal think twice about targeting your garage.
Emergencies
A parking garage can experience all kinds of emergencies. The busier it is, the more likely an emergency will occur. This can include medical emergencies and lost children or natural disasters, such as earthquakes or tornadoes.
What is the best way to keep a parking garage secure?
Keeping a parking garage secure requires a strong security network for the best coverage and response. The best way to keep a parking garage secure is to hire vehicle patrol services. Having an up-to-date security system with monitoring will provide even better security from your vehicle patrols. A good system will allow the monitoring security personnel to feed information to your vehicle patrol services to ensure the fastest response to issues that require intervention. This security web helps to minimize security threats slipping through the cracks and ensures a secure facility both inside and out. They can move quickly to prevent crime, and they can also be a valuable asset during a serious emergency or disaster, providing leadership and direction during a state of panic.
CES is Dedicated to Serving Our Community
Since opening in 1975, we have been committed to serving businesses in the District of Columbia, Maryland, and Virginia. Our values include proactive communication, honesty, reliability, and quality. We also believe in paying unparalleled attention to detail, no matter which service you require us to provide.
Our services include the following: professional security teams for permanent, temporary, emergency, and rapid-response support; around-the-clock patrols and management attention; concierge and hospitality staffing; and a dedicated mobile patrol service with associated staffing. Contact us for a free professional consultation today! Call 443-471-7000. Don't forget to follow us on social media through Facebook, Twitter, and LinkedIn!