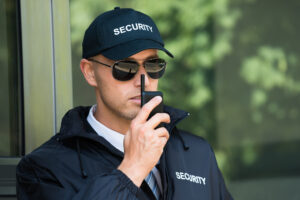 Security guards are essential for many businesses and facilities, and they come with an important set of skills that make them invaluable assets. While many of these skills are well-known and sought by employers, there are some lesser-known soft skills that every security guard needs to do their job at peak performance.
Remaining Calm
Security guards are trained to deal with stressful situations, and the best security guards are able to remain calm and collected no matter what is going on around them. That's why one of the soft skills every security guard needs is the ability to remain calm. Whether they're handling irate patrons, dealing with criminal activity such as theft, or maintaining order during an emergency situation such as a fire or natural disaster, a great security guard will keep their cool. This allows them to handle every situation professionally, and if they keep their composure, this can often help others to calm down and turn a chaotic situation into something a lot more manageable.
Problem-Solving
It's great when everything goes according to plan, but that doesn't happen very often. This is true for security guards, too. No matter how much planning we do, life loves to throw us curveballs that force us to adapt. This is why one of the soft skills every security guard needs is the ability to problem-solve. A great security guard will be capable of problem-solving on their feet and maintaining control of even the most tumultuous situations. Whether it's handling an especially creative thief or responding in an emergency situation, a skilled security guard should be able to switch from Plan A to Plan B, and even Plan C, seamlessly. They will continue to tackle the problem until it is effectively solved.
Communication
One of the most critical soft skills of any security guard is the ability to communicate effectively. Security guards are talking to people all throughout their day in many cases, and they need to be able to communicate in a way that makes sense and is concise. When dealing with problematic patrons and customers, they need to be firm and direct while maintaining their calm and preventing the situation from escalating. In emergency situations, security guards need to be able to give clear directions to staff and patrons, and they're often the line of communication when law enforcement or firefighters need to be called in to assist. People look to security guards for guidance and instruction when things go sideways, so every security guard should be capable of taking the lead and using effective communication to maintain order in even the most harrowing situations.
CES is Dedicated to Serving Our Community
Since opening in 1975, we have been committed to serving businesses in the District of Columbia, Maryland, and Virginia. Our values include proactive communication, honesty, reliability, and quality. We also believe in paying unparalleled attention to detail, no matter which service you require us to provide.
Our services include the following: professional security teams for permanent, temporary, emergency, and rapid-response support; around-the-clock patrols and management attention; concierge and hospitality staffing; and a dedicated mobile patrol service with associated staffing. Contact us for a free professional consultation today! Call 443-471-7000. Don't forget to follow us on social media through Facebook, Twitter, and LinkedIn!