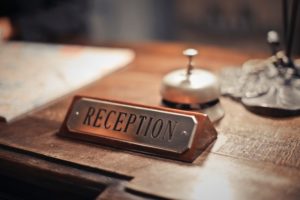 While security guards are critical for a property's protection and safety, some other staff members are vital as well. Desk attendants can serve various essential functions for commercial properties, from acting as access control monitors to providing valuable information and guidance to visitors. The team at CES Security offers both security guards and desk attendants for our clients in the District of Columbia, Maryland, and Virginia, and our experienced professionals are ready to provide the best service possible for your business. Here are some qualities that every effective desk attendant should possess.
Excellent Attention to Detail and Situational Awareness
Most people do not think of desk attendants as security personnel, but these professionals actually serve important security functions in their roles in reception. An excellent desk attendant should have a high degree of situational awareness, not only to spot potential security issues but also to detect visitors in need of assistance. Attention to detail is also critical — desk attendants are often in situations where the smallest detail matters, and a thorough, focused approach to customer service allows these professionals to provide a tailored customer experience to every person who walks into your facility.
Personable, Well-Mannered, and Tidy
While it is essential for security guards to be kind and courteous, it is also critical for desk attendants to have the same qualities. Desk attendants are often the first faces guests see when they visit your property, and their manners and attitude can make or break a new visitor's first impression of your business. Desk attendants should be able to keep themselves and their workspace tidy. Keeping uniforms neat and reception areas organized is crucial.
Competent Multi-Tasker and Protocol Enforcer
Finally, your desk attendants should be highly competent in juggling multiple tasks and following and enforcing rules. They will often face situations where numerous guests or employees will have an overwhelming amount of tasks for them to complete, whether it's checking in multiple guests, providing directions, answering phones, or a combination of them all. During the onslaught of requests and assignments, desk attendants must be able to follow all protocols and enforce them if necessary. Rule and order are essential for any front desk, and a good desk attendant knows this.
CES is Dedicated to Serving Our Community
Since opening in 1975, we have been committed to serving businesses in the District of Columbia, Maryland, and Virginia. Our values include proactive communication, honesty, reliability, and quality. We also believe in paying unparalleled attention to detail, no matter which service you require us to provide.
Our services include the following: professional security teams for permanent, temporary, emergency and rapid-response support; around-the-clock patrols and management attention; concierge and hospitality staffing; and a dedicated mobile patrol service with associated staffing. Contact us for a free, professional consultation today! Call 443-471-7000. Don't forget to follow us on social media through Facebook, Twitter, and LinkedIn!