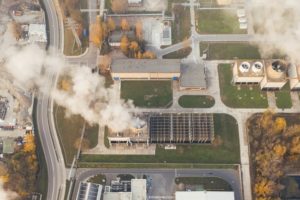 Some enterprises cannot be contained within a single building. Factories, warehouses, and large corporate campuses often utilize several buildings to house their operations. While multi-building properties are standard for businesses in many industries, securing these properties can present significant challenges. If you own or manage a multi-building property, keep these facility protection tips in mind and call the team at CES Security.
Identify Vulnerabilities and Areas of Importance
As with any other physical security operation, one of the first steps in securing multi-building properties is identifying vulnerable and valuable areas. Storage areas, offices, and other spaces can house valuables, making them prime targets for theft. Security services staff can take care to protect these areas, in particular. Unsecured entrances, gaps in CCTV coverage, and other vulnerable areas should also receive additional attention.
Establish a Secure Infrastructure Between Buildings
Multi-building properties carry a variety of unique facility protection challenges, the most significant of which is creating a secure infrastructure. Maintaining proper access control while facilitating movement across the entire campus can be difficult. Still, security guards, desk attendants, and things like door codes and gates can help facility managers meet this goal.
Maintain Physical Barriers and Other Facility Protection Measures
Securing large properties requires a keen eye for detail. Fences and other perimeter security solutions are only as strong as their weakest points, and a single hole in a chain-link fence can render the entire barrier useless. Maintaining these structures is critical, and security guards can play a key role. Security guards keep watch for various things while on patrol, including perimeter breaches and suspicious activity. They will notify you or designated authorities of anything that may need attention.If your property uses perimeter fences, gates, and other access control solutions to deter trespassers, consider adding security guards to your arsenal.
Utilize Security Guards and Security Vehicle Patrols
Finally, security guards and security vehicle patrols are incredibly useful for large commercial properties. These uniformed professionals can help deter trespassers and detect criminal activity, which can be particularly challenging to do on a massive campus. At CES Security, our security guards have the skills and training necessary to give your facility the best possible protection. If your facility protection measures need a boost, contact the team at CES Security.
CES is Dedicated to Serving Our Community
Since opening in 1975, we have been committed to serving businesses in the District of Columbia, Maryland, and Virginia. Our values include proactive communication, honesty, reliability, and quality. We also believe in paying unparalleled attention to detail, no matter which service you require us to provide.
Our services include the following: professional security teams for permanent, temporary, emergency and rapid-response support; around-the-clock patrols and management attention; concierge and hospitality staffing; and a dedicated mobile patrol service with associated staffing. Contact us for a free, professional consultation today! Call 443-471-7000. Don't forget to follow us on social media through Facebook, Twitter, and LinkedIn!