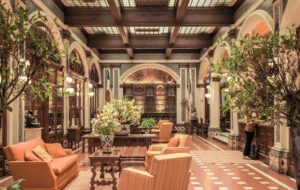 While the winter holidays are bound to look a bit different this year, businesses must still prepare for the surge in business that the season will bring. Office buildings, hotels, and other commercial facilities and residential developments can benefit from a team of experienced lobby attendants to meet visitors' needs. If your facility has a reception area, front desk, or lobby, consider using lobby attendants from CES Security to help your team manage the stresses of the holiday season.
Lobby Attendants Help Manage the Holiday Rush
When the holidays come around, all kinds of facilities experience a surge in last-minute business. Whether your industry is a key part of holiday festivities or you are simply seeing crowds of visitors trying to get things done before the holidays hit, lobby attendants can help you manage the holiday rush without losing your cool. Serving guests quickly and efficiently has never been more important; social distancing guidelines and building capacity limits underscore the need for fast, high-quality service.
Provide Assistance for First-Time Visitors
Handling first-time visitors' needs in addition to a seasonal surge can be overwhelming for your staff. Fortunately, lobby attendants from CES Security can help guide new guests as soon as they walk through the door. Stationing professional lobby attendants in your reception area helps ensure that your visitors get the customized service they require without overloading your other staff members with questions and requests.
Supplement Your Team With Lobby Attendants From CES Security
Are you concerned that your existing staff may not be able to cope with the amount of business that the holidays will bring? Consider supplementing your team with our trained lobby attendants. These professionals can handle things like greeting guests, providing entry at access points, tracking visitors, and more. This can allow the rest of your team to focus on other tasks. If you expect a surge in business this season, contact the experts at CES Security. Our lobby attendants, security guards, and security services can help you keep your guests happy and your property secure.
CES is Dedicated to Serving Our Community
Since opening in 1975, we have been committed to serving businesses in the District of Columbia, Maryland, and Virginia. Our values include proactive communication, honesty, reliability, and quality. We also believe in paying unparalleled attention to detail, no matter which service you require us to provide.
Our services include the following: professional security teams for permanent, temporary, emergency and rapid-response support; around-the-clock patrols and management attention; concierge and hospitality staffing; and a dedicated mobile patrol service with associated staffing. Contact us for a free, professional consultation today! Call 443-471-7000. Don't forget to follow us on social media through Facebook, Twitter, and LinkedIn!