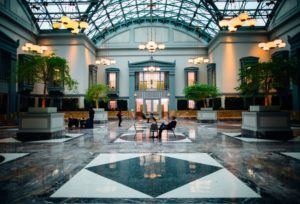 Virtually every commercial property requires a capable team of professionals to guide guests, answer important questions, and serve as the first point of contact for new visitors. Desk attendants from CES Security fit this bill, and there are plenty of businesses in Maryland and Washington, D.C. that can benefit from having our trained professionals on-site. If you own or manage one of these property types, consider working with desk attendants from the team at CES Security.
Desk Attendants are Ideal for Hotels
Whether you call them desk attendants, concierges, or receptionists, these professionals are often associated with hotels and businesses in the hospitality industry. Guests, passersby, and delivery workers often need guidance from desk attendants in hotels, making them an essential presence in any lobby or reception area. These professionals must be able to multitask, anticipate guests' needs, and detect suspicious activity and emergencies.
They Protect and Direct in Gated Communities
Like hotels, gated communities can benefit from a seasoned team of desk attendants to meet the needs of the community's residents, guests, and visitors. Stationing a desk attendant in a front office or community entrance can help give visitors a place to check-in and ask questions. Having a clearly-visible employee stationed on-site can also help deter trespassers.
Desk Attendants are a Constant Presence in High-Rise Buildings
Although residents are typically booked for a much longer stay in high-rise condos and apartments, the need for professional desk attendants remains the same. Delivery drivers, emergency response personnel, and other visitors often need direction when visiting specific units, and residents value the presence of an in-person point of contact.
Provide Much-Needed Support in Office Buildings
Finally, desk attendants make a great addition to any office building, particularly in buildings with multiple companies. It can be tough to know which office should provide a receptionist for the main lobby, and guests often need to ask questions about office locations, parking, and more. Desk attendants often act as an access control measure, buzzing guests into the appropriate secure areas. Consider working with CES Security to outfit your reception desk or lobby with capable desk attendants who strive to provide excellent customer service for your guests from the moment they step through the door.
CES is Dedicated to Serving Our Community
Since opening in 1975, we have been committed to serving businesses in the District of Columbia, Maryland, and Virginia. Our values include proactive communication, honesty, reliability, and quality. We also believe in paying unparalleled attention to detail, no matter which service you require us to provide.
Our services include the following: professional security teams for permanent, temporary, emergency and rapid-response support; around-the-clock patrols and management attention; concierge and hospitality staffing; and a dedicated mobile patrol service with associated staffing. Contact us for a free, professional consultation today! Call 443-471-7000. Don't forget to follow us on social media through Facebook, Twitter, and LinkedIn!