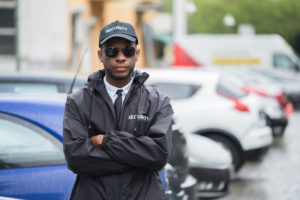 Creating an effective security team isn't always a simple process. It takes training, experience, proper management techniques, and expert hiring decisions to deter, detect, and respond to crime. Security guards must be trained, alert, and trustworthy to fulfill their roles well, and business owners who try to hire their own security staff often face significant personnel challenges. Working with CES Security to manage your facility's security services and patrols allows you to focus on running your business instead of creating a security team from the ground up. There are plenty of minute details that are critical for any security services patrol, and these four features are essential for the team you trust to protect your property.
Visibility for Crime Deterrence and Guest Reassurance
Security guards are a valuable investment for a few reasons, not least of which is their ability to deter crime. Highly-visible security guards show potential intruders that your property won't be an easy target, and they can reassure guests and employees who may otherwise feel unsafe. Both stationary guards and those on patrol can send a signal to would-be criminals that your property is protected.
Situational Awareness is Key
At CES Security, our guards are trained to remain vigilant at all times. Situational awareness is critical, as it allows security personnel to detect even the smallest hints of suspicious activity. Security guards must remain mindful of those around them and have a keen sense for detecting and resolving tense situations, particularly when guests and employees are involved.
Routine Inspections of Vulnerable Areas
Every facility has areas that are vital from a strategic perspective: entry and exit points, perimeter security measures, and access control features can make or break your building's security. Your security services patrol should take care to inspect entry and exit points for signs of intrusion or suspicious activity. Unlocked windows, broken fences, and jammed locks can all be signs of intrusion. Keeping an eye on critical areas throughout a shift allows security guards to detect irregularities in a timely fashion. Guards should follow a routine to check these important areas throughout their patrols.
Effective Patrol Routes are Critical for a Security Services Patrol
A well-planned set of patrol routes is essential for any successful security strategy. Routes must be thorough and consistent without being so predictable that criminals can anticipate your guards' next moves. Working with the team at CES Security can help ensure that your entire property is covered. Our security experts will work with you to determine the best approach for your facility, and our trained security guards will provide an essential on-site presence.
CES is Dedicated to Serving Our Community
Since opening in 1975, we have been committed to serving businesses in the District of Columbia, Maryland, and Virginia. Our values include proactive communication, honesty, reliability, and quality. We also believe in paying unparalleled attention to detail, no matter which service you require us to provide.
Our services include the following: professional security teams for permanent, temporary, emergency and rapid-response support; around-the-clock patrols and management attention; concierge and hospitality staffing; and a dedicated mobile patrol service with associated staffing. Contact us for a free, professional consultation today! Call 443-471-7000. Don't forget to follow us on social media through Facebook, Twitter, and LinkedIn!