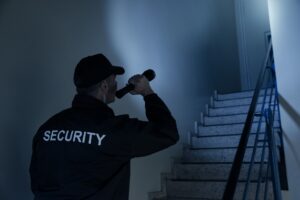 Hire night security guards to ensure your facilities remain protected at times. CES Security understands the importance of nighttime security and will only supply your business with highly trained staff. Although unlikely, accidents happen all the time. Ensure your facility is protected by investing in a staff of night security guards who are committed to keeping your property safe. 
Closing Up Shop
As the business day comes to a close and employees leave the property, a night security guard will ensure everyone remains safe as they leave. Additionally, a night security guard will enforce a specific closing time where employees and customers need to be gone. Our staff is familiar with electronic visitor management systems, security cameras, and other security equipment they may need to interact with. 
Protect Against Criminals and Disasters After-Hours
Unattended buildings are left vulnerable to trespassers and burglars. Even with state of the art security, a night security guard offers peace of mind and is able to respond to any immediate threats as they happen. CES Security provides appropriately trained personnel to protect your property over night. Our staff reacts well to emergencies, making them ideal for any security position. Natural disasters can cause thousands of dollars in damage to your property. If a night guard is present, they will be able to notify the necessary parties to report the loss of electrical power or other utilities. Additionally, your facility will be protected by our night guard during the outage. 
Redirect Possible Customers to Appropriate Business Hours
Not only is having a night security guard great for protection, but they can directly explain your business hours and how to reach you. Although most companies adhere to typical business hours, some customers expect service around the clock. Instead of a disgruntled customer knocking on your doors at 8 pm for several minutes, a night security guard can tell them when you open in the morning. If the customer refuses to leave, the night guard can safely escort them. 
CES is Dedicated to Serving Our Community
Since opening in 1975, we have been committed to serving businesses in the District of Columbia, Maryland, and Virginia. Our values include proactive communication, honesty, reliability, and quality. We also believe in paying unparalleled attention to detail, no matter which service you require us to provide.
Our services include the following: professional security teams for permanent, temporary, emergency and rapid-response support; around-the-clock patrols and management attention; concierge and hospitality staffing; and a dedicated mobile patrol service with associated staffing. Contact us for a free, professional consultation today! Call 443-471-7000. Don't forget to follow us on social media through Facebook, Twitter, and LinkedIn!