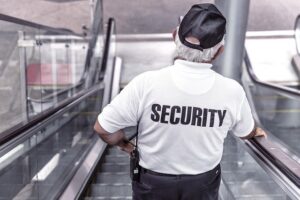 Threats to your business aren't always from nameless, faceless criminals on the outside — some security risks come from within. Disgruntled employees and those who have been laid off or fired can take their frustrations out on your business, and any facility protection strategy worth its salt should include procedures for employee termination. Security guards, desk attendants, and well-informed facility protection strategies are vital, and CES Security is here to help you tackle it all. Learn more about facility protection as it relates to employee termination and contact the team at CES Security for security services.
Employee Termination Protocols are a Critical Aspect of Facility Protection
Nobody likes to think of their team members as capable of harmful or malicious acts, but some work situations can bring out the worst in people. Getting fired, laid off, or disciplined at work can push already stressed people over the edge. However, proactive employee termination protocols can help limit the impact and severity of a disgruntled employee's actions. With effective facility protection measures in place, business owners and managers can minimize the risk of a catastrophic blow-up, protect company information and other assets, and reduce the risk of disrupting other guests and staff.
Common Security Considerations for Employee Termination Protocols
Every situation is different, and some employees may be more prone to outbursts than others. Still, it's essential to take proactive steps to mitigate risk. Here are a few ways for business owners and managers to keep tempers from flaring and protect company assets when terminating potentially volatile employees:
Inform your security team of the situation and consider having security guards nearby. In some cases, it may be necessary for security personnel to escort former employees from the premises. If you anticipate a violent or negative reaction, it may be wise to have security guards standing by in the area.
Revoke the former employee's access to secure areas. Take back all keys, change keycodes, and let other staff members know of any changes. Having a brief meeting to communicate any new restrictions or concerns (e.g., management/security should be notified if anyone sees the former employee, don't let the former employee in, etc.) can be helpful.
Consider adjusting your security strategies and routines. In the event of a particularly nasty termination, you may want to boost security or change your habits and protocols slightly. This can help keep your former employee from using their knowledge of your existing facility protection measures to gain access to secure areas. Ensure all entry and exit points are secure, make adjustments to patrol routes and other security measures, and contact your security services provider with any concerns.
CES is Dedicated to Serving Our Community
Since opening in 1975, we have been committed to serving businesses in the District of Columbia, Maryland, and Virginia. Our values include proactive communication, honesty, reliability, and quality. We also believe in paying unparalleled attention to detail, no matter which service you require us to provide.
Our services include the following: professional security teams for permanent, temporary, emergency and rapid-response support; around-the-clock patrols and management attention; concierge and hospitality staffing; and a dedicated mobile patrol service with associated staffing. Contact us for a free, professional consultation today! Call 443-471-7000. Don't forget to follow us on social media through Facebook, Twitter, and LinkedIn!