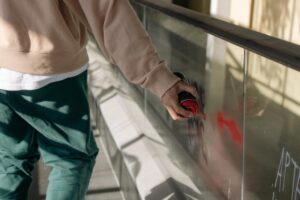 The weather in Maryland and the District of Columbia has taken a turn, and the trees are dotted with gold, green, and brown. Halloween is nearly here, and tricksters and delinquents are gearing up for a weekend full of tomfoolery. While some Halloween tricks simply present a minor inconvenience, others can result in property damage, injury, and harm to businesses. Security guards can help business owners and property managers keep holiday hijinks to a minimum, and they can deter criminal activity year-round, day or night.
Discouraging Halloween Tricks with Security Guards
For some pranksters, the opportunity for Halloween tricks is simply too irresistible to pass up. Unfortunately, some bad actors also use the holiday as a chance to blend in with crowds, target empty properties, and steal or vandalize undetected. Business owners and others can use these tips to stay safe this Halloween:
Keep the lights on. Even if you're trying to discourage trick-or-treaters, keeping your home or business well-lit at night can make your property an undesirable target for trespassers, vandals, and thieves.
Keep pets and vehicles locked away. Bring any pets indoors, and secure your private vehicles in a locked garage. Business owners should also secure any important machinery, company vehicles, and other large assets that may normally be kept outdoors.
Eliminate temptation for trespassers, vandals, and thieves. Keep small, easily-stealable items locked away at night. Things like signs, advertising materials, decorations, and even furniture can be tempting targets for Halloween tricksters. Ensuring that every item, vehicle, and building is under lock and key is crucial at night, especially on Halloween. Security guards can help deter criminals and keep watch over your property.
Security Guards Aren't Just a Seasonal Asset
While Halloween can be a particularly perilous time for property owners, criminals are active year-round. The fall and winter months feature shorter days and longer nights, giving thieves and vandals ample cover for their criminal activities. Investing in security guards can help businesses keep their facilities secure, deterring criminals and providing much-needed protection for employees, visitors, and physical assets.
CES is Dedicated to Serving Our Community
Since opening in 1975, we have been committed to serving businesses in the District of Columbia, Maryland, and Virginia. Our values include proactive communication, honesty, reliability, and quality. We also believe in paying unparalleled attention to detail, no matter which service you require us to provide.
Our services include the following: professional security teams for permanent, temporary, emergency and rapid-response support; around-the-clock patrols and management attention; concierge and hospitality staffing; and a dedicated mobile patrol service with associated staffing. Contact us for a free, professional consultation today! Call 443-471-7000. Don't forget to follow us on social media through Facebook, Twitter, and LinkedIn!