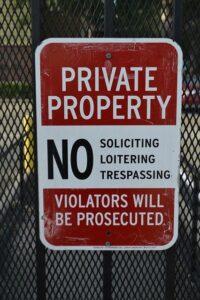 Trespassers on your property can represent anything from a major security threat to a minor nuisance. Whether they are trespassers in the legal or colloquial sense, these unwanted guests can put a damper on your business and present security and safety risks that simply cannot be ignored. If you've struggled to deal with a never-ending deluge of trespassers, don't panic! Simply read this primer on trespassers and contact the experts at CES Security.
Trespassing Isn't Always Intentional
Trespassing in the colloquial sense isn't always intentional; passersby may not realize that they've stumbled upon a secure area. Still, whether deliberate or not, trespassing can present serious risks to both you and your unwanted guests. Safety hazards on industrial properties and construction sites can be a liability nightmare, and keeping trespassers out of any facility requires a great deal of physical access control measures. Fences, signs, and other physical features can let passersby know where public access begins and ends, eliminating any ambiguity.
Security Services are Crucial for Deterring and Responding to Trespassers
Sometimes, would-be trespassers need a human interaction to really drive the point home that they shouldn't be on your property. Security guards, both stationary and on patrol, can intercept accidental trespassers and deter those with nefarious intentions. Sometimes all that's necessary is to ask these unwanted visitors to leave or clarify the property's boundaries. In some cases, security services personnel may need to implement a bit of persuasion to get trespassers to leave. The most drastic situations may require further action, but a knowledgeable security guard knows how to address trespassers while maintaining a calm atmosphere and minimizing escalation.
Discuss Options with Your Security Services Provider
Security guards and lobby attendants are valuable tools in the fight against trespassers, and your security services provider can help you address your facility's most pressing security issues. Security vehicle patrol services may be the most effective solution, or you may find that a small team of security guards and desk attendants does the trick. Regardless of your needs, the team at CES Security is standing by to help! Contact us today to learn more about potential solutions for your property.
CES is Dedicated to Serving Our Community
Since opening in 1975, we have been committed to serving businesses in the District of Columbia, Maryland, and Virginia. Our values include proactive communication, honesty, reliability, and quality. We also believe in paying unparalleled attention to detail, no matter which service you require us to provide.
Our services include the following: professional security teams for permanent, temporary, emergency and rapid-response support; around-the-clock patrols and management attention; concierge and hospitality staffing; and a dedicated mobile patrol service with associated staffing. Contact us for a free, professional consultation today! Call 443-471-7000. Don't forget to follow us on social media through Facebook, Twitter, and LinkedIn!