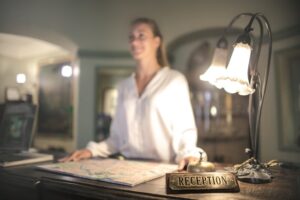 Finding reliable employees can be tough. Employers must sort through a sea of candidates to find the right match, and it can be daunting to trust your facility's security and reputation to unknown individuals. Fortunately, working with the team at CES Security takes the guesswork out of the equation. Lobby attendants are a valuable asset for all kinds of businesses, and professionals with these four qualities can make ideal additions to your team.
Lobby Attendants Must Communicate Effectively
Because they constantly interact with visitors, employees, and security personnel, lobby attendants must be excellent communicators. Poor communication skills can lead to misunderstandings, dissatisfied customers, and issues with safety and security. Lobby attendants must be able to interface with multiple parties at once with clarity, respect, and ease.
Observational Skills and Attention to Detail are Vital
As with many other occupations, sharp attention to detail is important for lobby attendants. This helps keep mistakes and missteps to a minimum. The professionals you station in your lobby are a valuable part of your facility's security strategy. These professionals are often the first to notice suspicious activity, and they can be among the first to interact with visitors who have malicious intentions. Lobby attendants must always remain vigilant, even when working on multiple tasks.
Lobby Attendants Must Have Excellent Customer Service Skills
On many properties, lobby attendants are primarily tasked with responding to guests' questions and needs. Customer service skills are essential everywhere, even in lobbies that rarely see new visitors. An effective lobby attendant has fantastic customer service skills and is personable, respectful, and efficient. Lobby attendants are often the first point of contact for visitors, and a positive experience at the front desk can leave guests with a favorable view of your business.
Look for Lobby Attendants Who are Proactive Problem Solvers
Effective and proactive problem solvers often make excellent lobby attendants. These professionals must regularly solve problems and answer questions for visitors, and taking initiative can help decrease wait times and improve guests' experiences overall. If your facility needs a team of capable lobby attendants or security personnel, look no further than CES Security! We offer a range of security solutions to meet any property's needs.
CES is Dedicated to Serving Our Community
Since opening in 1975, we have been committed to serving businesses in the District of Columbia, Maryland, and Virginia. Our values include proactive communication, honesty, reliability, and quality. We also believe in paying unparalleled attention to detail, no matter which service you require us to provide.
Our services include the following: professional security teams for permanent, temporary, emergency and rapid-response support; around-the-clock patrols and management attention; concierge and hospitality staffing; and a dedicated mobile patrol service with associated staffing. Contact us for a free, professional consultation today! Call 443-471-7000. Don't forget to follow us on social media through Facebook, Twitter, and LinkedIn!