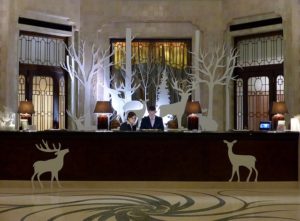 Giving each and every visitor the attention they need can be tricky, no matter what kind of business you operate. Having a dedicated staff member on hand to address any questions, emergencies, or visitor requests is a great solution. Still, it's not always feasible to station a full-time employee in your lobby. If your office, hotel, or other commercial property could use some extra support in the reception area, consider hiring lobby attendants from CES Security.
What do Lobby Attendants Offer?
While most business owners and managers hire desk attendants to keep watch in the lobby, these professionals offer much more than just a warm body behind your front desk. Stationing lobby attendants in your reception area provides guests with a clear place to turn for answers, and lobby attendants can also act as a deterrent for things like vandalism, loitering, and property crime. In this day and age, lobby attendants are often tasked with explaining and enforcing masking and social distancing rules. These professionals can keep an eye out for suspicious activity or people in need of assistance, and they are truly an invaluable addition to any facility that sees guests.
Lobby Attendants are Crucial for Hotels and High-Rises
How do you handle guests' needs in your hotel? Lobby attendants are a helpful presence in any hotel lobby, and your guests will appreciate having a clear point of contact when they first arrive. Lobby attendants are also incredibly useful in high-rise buildings and residential complexes. Your building's renters, condo owners, and guests can ask questions, get important information, and have a place to turn in emergencies. While front desk attendants are a vital part of a high-rise's operations, they are also an attractive feature for potential buyers or renters. After all, who wouldn't want to live in a building with assistance (and security) readily available in the lobby?
Offices and Large Office Buildings
Receptionists are crucial in any office, but who provides support in the lobby of a shared office building? If you operate an office building of any size, lobby attendants from CES Security are a wise choice. These professionals can direct visitors to the proper offices and floors, boost your access control measures, and act as a set of eyes in your lobby. Front desk support is particularly vital for office buildings in high-traffic areas, where loiterers and vandals may strike in unattended areas.
CES is Dedicated to Serving Our Community
Since opening in 1975, we have been committed to serving businesses in the District of Columbia, Maryland, and Virginia. Our values include proactive communication, honesty, reliability, and quality. We also believe in paying unparalleled attention to detail, no matter which service you require us to provide.
Our services include the following: professional security teams for permanent, temporary, emergency and rapid-response support; around-the-clock patrols and management attention; concierge and hospitality staffing; and a dedicated mobile patrol service with associated staffing. Contact us for a free, professional consultation today! Call 443-471-7000. Don't forget to follow us on social media through Facebook, Twitter, and LinkedIn!