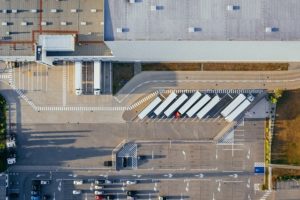 Large, multi-building properties can be incredibly challenging to secure. Warehouses, hotels, and residential complexes often feature multiple buildings, parking lots, and outdoor areas that require monitoring and protection. How do you ensure that your employees, visitors, and assets are protected throughout every inch of your facility? Work with the team at CES Security and follow this facility protection checklist to improve the physical security of your large property.
Facility Protection Basics: Define and Evaluate Your Perimeter
Defining the space you need to protect is an invaluable first step toward greater facility protection. Some business owners and managers want to secure everything from parking lots and sidewalks to storage rooms and offices, but others simply wish to prioritize areas where assets are stored. Determine where your property begins and ends, assess the existing physical security measures in place, and add reinforcements when necessary.
Assess Storage Areas and Other Valuable Targets for Vulnerabilities
Next, work with your security services provider to determine which areas are the highest priority. Where do you store most of your assets, and which places are the most likely targets for thieves, vandals, and trespassers? Once you and your security services contractor have pinpointed potential vulnerabilities, you can prioritize and streamline your monitoring efforts with security guards and mobile patrol officers.
Institute or Improve Access Control Measures
How do you ensure that only authorized individuals have access to storage areas and other secure spaces? Access control is a vital aspect of facility protection, particularly for large properties. Work with your security team to implement a new access control strategy or improve your current system. Security guards and desk attendants are crucial in enforcing access control policies, and the experts at CES Security are standing by to help.
Consider Secure Movement Between Different Areas and Buildings
One of the most challenging aspects of facility protection for sprawling facilities is maintaining an appropriate degree of security between buildings. How do you deter trespassers and promote safety in your facility's exterior spaces? Mobile patrol officers can help detect and deter unauthorized visitors, provide assistance for individuals who become lost, and keep your facility secure.
CES is Dedicated to Serving Our Community
Since opening in 1975, we have been committed to serving businesses in the District of Columbia, Maryland, and Virginia. Our values include proactive communication, honesty, reliability, and quality. We also believe in paying unparalleled attention to detail, no matter which service you require us to provide.
Our services include the following: professional security teams for permanent, temporary, emergency and rapid-response support; around-the-clock patrols and management attention; concierge and hospitality staffing; and a dedicated mobile patrol service with associated staffing. Contact us for a free, professional consultation today! Call 443-471-7000. Don't forget to follow us on social media through Facebook, Twitter, and LinkedIn!