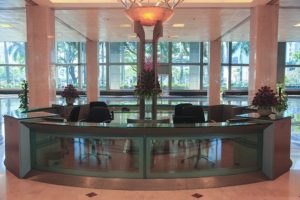 As more and more Baltimoreans resume their daily lives, companies in the region are ramping up their operations to meet increases in business. Is your facility equipped to handle more guests? Desk attendants are trained to help you manage the needs of your property's visitors, but they also offer significant security benefits, too. Baltimore businesses need all hands on deck to manage things this summer, and desk attendants from CES Security are standing by to help.
Give Each Visitor the Attention They Need with Desk Attendants
Do your visitors know where to go when they first set foot on your property? Can passersby find bathrooms or assistance quickly? If not, you likely need to invest in desk attendants. A well-staffed lobby or reception area is vital, particularly in high-traffic neighborhoods. A trained desk attendant can provide much-needed guidance to new visitors, and their prompt service is sure to give an excellent first impression. Attentive desk attendants can help boost your bottom line by providing fantastic customer service and keeping them satisfied.
Desk Attendants Bolster a Facility's Access Control Measures
All businesses need physical security. Access control strategies allow facilities to limit and track who goes where, protecting assets and guarding against theft, vandalism, and violent crime. Still, even the most high-tech door lock systems can't always provide sufficient access control. Desk attendants can keep watch and ensure that would-be criminals aren't trying to get around door codes and other obstacles in your lobby. These professionals can help visitors and employees buzz in, unlocking doors and keeping track of guests from the front desk.
Desk Attendants Act as Eyes and Ears
Suspicious activity isn't always obvious. If someone tried to get into your facility's secured areas, would you know? Stationing desk attendants in your reception area gives you another set of eyes and ears, providing vital monitoring capabilities on the ground. Desk attendants can raise the alarm if they see vandals, thieves, or those in need of emergency assistance. With a dedicated staff of desk attendants, your guests will always know where to turn if they need help.
CES is Dedicated to Serving Our Community
Since opening in 1975, we have been committed to serving businesses in the District of Columbia, Maryland, and Virginia. Our values include proactive communication, honesty, reliability, and quality. We also believe in paying unparalleled attention to detail, no matter which service you require us to provide.
Our services include the following: professional security teams for permanent, temporary, emergency and rapid-response support; around-the-clock patrols and management attention; concierge and hospitality staffing; and a dedicated mobile patrol service with associated staffing. Contact us for a free, professional consultation today! Call 443-471-7000. Don't forget to follow us on social media through Facebook, Twitter, and LinkedIn!