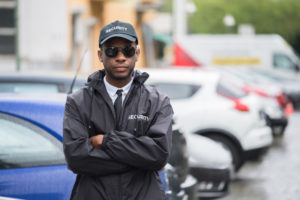 Large properties can be challenging to secure. Apartment complexes, industrial properties, and multi-building warehouses are everywhere in Maryland and the District of Columbia, but creating and protecting a secure perimeter can test even the most experienced security professionals. One common solution is the implementation of vehicle patrols. With security vehicle patrol services, large commercial and residential properties can enjoy all of the perks of security guards. Contact the team at CES Security to invest in security vehicle patrol services and enjoy these four benefits.
Security Vehicle Patrol Services Offer Scalable Protection
How many buildings does your property have? How would your security strategy change if you were to expand? Security vehicle patrol services are valuable because they offer scalable protection for all kinds of properties. Patrol vehicles can cover large areas quickly, and security guards aren't limited to a small patrol route. The experts at CES Security can provide patrol services that cover your entire facility, no matter its size.
Comprehensive Security Boosts Productivity
Without adequate protection, your workers and visitors may feel uneasy. This is particularly true in remote industrial parks or areas with high crime rates. Investing in security allows you to put your staff members and guests at ease, promoting productivity and encouraging repeat business. Security vehicle patrol services give business owners peace of mind, but they also work wonders for employee morale.
Working with a Security Services Provider is Affordable
Business owners and managers know that expenses can balloon with larger properties. Security vehicle patrol services from CES Security help our clients minimize the cost. Vehicle patrols cover more ground than security officers on foot, and their fast response times mean that clients can station fewer guards while covering the same area. Working with a security services provider is often much more affordable than hiring and managing security staff in-house; overhead expenses and wages for an in-house security team can add up fast.
Security Vehicle Patrol Services are Convenient
If your property has a clearly demonstrated need for improved security, seeking security vehicle patrol services from a team of security experts is one of the most convenient options. Our professionals have been providing security services in the region for more than 45 years, and we take training and management seriously. Contact us today to learn how CES Security can help keep your facility safe with security vehicle patrol services.
CES is Dedicated to Serving Our Community
Since opening in 1975, we have been committed to serving businesses in the District of Columbia, Maryland, and Virginia. Our values include proactive communication, honesty, reliability, and quality. We also believe in paying unparalleled attention to detail, no matter which service you require us to provide.
Our services include the following: professional security teams for permanent, temporary, emergency and rapid-response support; around-the-clock patrols and management attention; concierge and hospitality staffing; and a dedicated mobile patrol service with associated staffing. Contact us for a free, professional consultation today! Call 443-471-7000. Don't forget to follow us on social media through Facebook, Twitter, and LinkedIn!