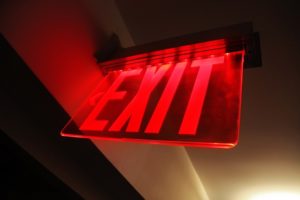 Any business with a physical location should have an emergency evacuation plan, especially if the location is in a large office building. Whether your employees face a hurricane, fire, or active shooter situation, there should be a plan in place for keeping your employees safe and secure. Uniformed security officers can be an invaluable emergency preparedness tool, both in situations that require evacuation and those that necessitate sheltering in place. Here are three ways in which uniformed security officers can contribute to your emergency preparedness efforts.
1. Uniformed Security Officers are Seen as Figures of Authority
Civilians often look to those in uniform for guidance in emergency situations. Uniformed security officers are trained to know the proper course of action. Evacuation or sheltering efforts can be undermined by the frenzied panic of people without a clear leader. With a uniformed security officer's guidance, this panic can be calmed and the frenzied energy can be redirected into more constructive tasks. Security officers provide the direction that is necessary for a successful emergency plan.
2. Security Officers Have Valuable Skills
Many of the skills that make a great security officer are crucial in emergency situations. They have training and experience that allows them to keep people calm, follow procedure, act quickly, and observe their surroundings. These traits are important in any evacuation effort. Security officers are also familiar with how to make thorough reports quickly and efficiently, which allows them to work well with first responders who may arrive on the scene. This ability to relay detailed information from the inside can be vital to a search and rescue or evacuation operation.
3. Officers Can be Trained to Execute an Emergency Plan
In the case of natural disasters and other catastrophes, security officers can be trained to execute specific emergency plans. If your business regularly has large volumes of visitors or employees who are not trained in emergency preparedness, uniformed security staff can direct these people to safety quickly and efficiently. Security officers can assist with drills in your place of business so that if an emergency occurs, they know how to work with the limitations of your building to best protect your employees and clients.
CES is Dedicated to Serving Our Community
Since opening in 1975, we have been committed to serving businesses in the District of Columbia, Virginia, and Maryland. Our values include proactive communication, honesty, reliability, and quality. We also believe in paying unparalleled attention to detail, no matter which service you require us to provide.
Our services include the following: Professional security teams for permanent, temporary, emergency and rapid-response support; around-the-clock patrols and management attention; concierge and hospitality staffing; and a dedicated mobile patrol service with associated staffing. Contact us for a free, professional consultation today! Call 443-471-7000.  Don't forget to follow us on social media through Facebook, Twitter, and LinkedIn!