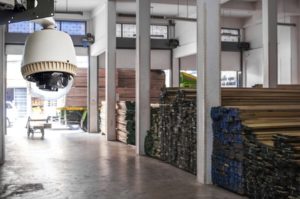 While loss prevention is a key component of most retail operations, theft can be a threat to all businesses, regardless of industry. Asset protection is a vital aspect of running any business with goods or property that can be pilfered. While the nature of your business can dictate which security techniques are most feasible, here are four asset protection tools and tips for any industry. Read on to learn how to keep your business's property within your hands.
1. Hire Security Guards
Security guards can play a crucial role in asset protection. They can discourage theft by being a visible presence and deterrent, and a well-trained security guard will monitor your business and keep an eye out for theft, rule breaking, and suspicious activity. Additionally, good security guards know how to greet guests, keep a calm demeanor, and make guests feel comfortable with their presence. A capable security guard will keep themselves aware and alert at all times, leaving your staff free to do their jobs.
2. Identify Valuable Items or Potential Targets
Know what may be a potential for theft. Which items in your business are the most valuable? Which items would be easy to steal? Take note of items near the doors of your business, and be sure to lock up more valuable goods. Discuss these areas of concern with your security team. A security guard can make sure to give these items and areas special attention during patrols.
3. Train Your Staff
The strongest tool against theft that a business owner can have is their staff. A well-trained staff can discourage, identify, and in some cases deter potential theft. Regularly train your staff to identify items that may be targeted for theft, provide tips on vigilance and situational awareness, and train for reporting instances of theft to your security team. Your staff can be your first line of defense against asset loss, and giving them the tools and information they need to protect your business's assets is vital.
4. Install Cameras
Advances in security technology can assist guards in protecting your property. Cameras serve two functions in terms of asset protection: first, they can deter theft by being clearly visible to would-be criminals, and second, they can help track down thieves once a crime has occurred. Cameras can be useful in locations with security guards by covering times between guard shifts or when guards are patrolling other areas.
CES is Dedicated to Serving Our Community
Since opening in 1975, we have been committed to serving businesses in the District of Columbia, Virginia, and Maryland. Our values include proactive communication, honesty, reliability, and quality. We also believe in paying unparalleled attention to detail, no matter which service you require us to provide.
Our services include the following: Professional security teams for permanent, temporary, emergency and rapid-response support; around-the-clock patrols and management attention; concierge and hospitality staffing; and a dedicated mobile patrol service with associated staffing. Contact us for a free, professional consultation today! Call 443-471-7000.  Don't forget to follow us on social media through Facebook, Twitter, and LinkedIn!